As the end of 2017 draws near, it's an opportune time to review the themes and events that defined it.  It's been a year filled with fruitful debates, strong female voices and important strides.
It's certainly been quite the year for fashion, as millennials come of age and the tension between online shopping and brick-and-mortar stores rises. Over the year, we've closely tracked important trends in fashion and shopping and had important discussions about changes in the way we consume the luxury brands we so admire. Refresh your memory with 5 important articles from this year about fashion and the current moment:
While there have definitely been important political and economic changes in the fashion industry in the past year, we want to examine the brands and, even more specifically, the bags that have risen to the occasion and truly shined this year.
First, we are going to analyze Fashionista's article about the most-searched bags of 2017. We will identify the surprises in the list, and try to understand what information these bags give us about trends and the market. Next, we will compare the list to our community Instagram, @boptalk, and reflect on how our community's taste differs from that of the general public.
We're excited to hear your thoughts!
I. Most Searched Bags
It's been an incredibly important year for brands. Though we certainly read a lot of news articles and pay close attention to markers like celebrity trends and profit margins for major brands, it can sometimes be difficult to determine the specifics of the most popular trends in fashion. For this reason, we were thrilled to see a report by Lyst on the Fashionista website, providing information about the most searched handbags and shoes for 2017.
Below is a summary of the findings (in no particular order):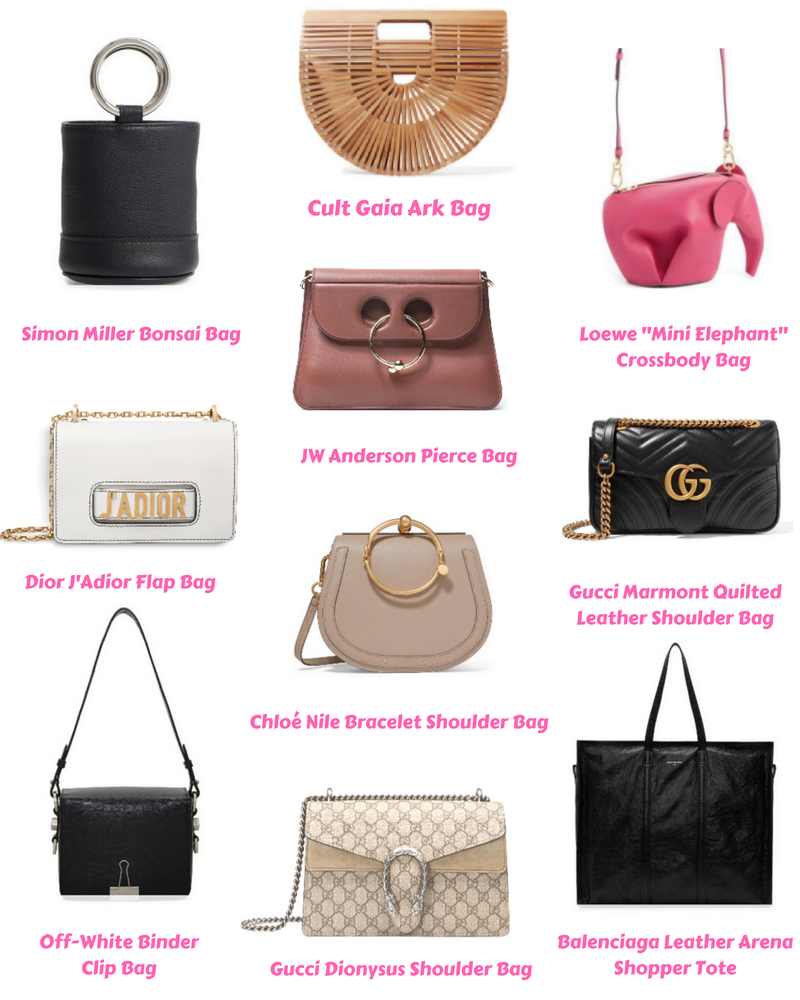 II. What Does It Mean To Be "Most Searched"?
For its analysis, Lyst "monitored the shopping habits of its 80 million users worldwide and tracked more than 100 million searches." This tells us that their findings reflect both sales and searches, which means that these bags not only opened wallets, but also generated the most interest among consumers.
From teenagers searching for their favorite Insta-celebrity's latest purchase, to established celebrities buying their next day bag, these bags give a holistic view of consumer taste.
Gucci: MVP of 2017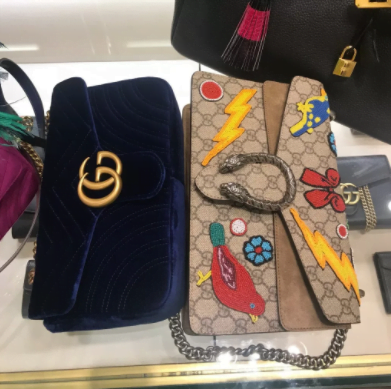 With not one, but two bags in the top 10, Gucci has charmed the market with its innovation and its social media savvy. In addition to the Lyst report, Gucci has also managed to be the most Google searched brand of the year! In a Vogue interview with five top fashion insiders, their resounding answer when asked about the powerhouse brand of the year was Gucci.  This brand is not going anywhere and will only continue to climb to fashion greatness.
The placement of the Marmont and the Dionysus on this list comes at no surprise. Not only are they celebrity favorites, they are also affordable enough for the millennial generation. We've covered these bags extensively on our site and even moderated a fashion showdown between these beauties! Which do you prefer, the Marmont or the Dionysus?
Balenciaga and Dior: Established Fashion Houses Making a Major Comeback?
Well-known and coveted fashion houses Balenciaga and Dior have had ups and downs in terms of their purse popularity. While they have always managed to remain at the same level of visibility as other major brands, it's not every year that these two companies are able to nail a spot in the top 10.
In a Vogue interview with Lisa Aiken of Net-a-Porter, she emphasizes how brilliant Balenciaga has been this year:  "Balenciaga is doing incredibly well. Yes, the sales performance is fantastic, and the growth is there, but Demna [Gvasalia] is also setting trends; he holds such a major place within the industry."
Dior has been rising in the ranks for a few years now. In 2016 we named its Diorever purse the best bag of the year.  With its savvy and appealing use of logomania, especially in its top-ranking J'Adior bag, its proved itself a powerhouse.
The Influence of Popular Instagram Bags
A majority of these top 10 bags found their success through Instagram fame. No bag exemplifies this rise to power better than the Cult Gaia Ark Bag, which swept the fashion world with its funky shape and photogenic charm. Priced between $128 and $138, the bag is the most affordable on the list and has managed to balance major affordability while maintaining a feeling of exclusivity (the bag frequently sells out on Net-a-porter).
Similarly to the Ark Bag, he Simon Miller Bonsai Bucket Bag demonstrates a more democratic wave of fashion, with its popularity among young people and its extremely affordable price tag. Like the Cult Gaia, you can purchase this beauty for less than $500.
While the Chloé bag is certainly not as affordable as either of the bags above, while compared to major players like Gucci and Dior, its price tag still puts it among our favorite entry level bags.  Its appeal on Instagram is undeniable and, interestingly, seems to have influenced the bracelet-like hardware on the Simon Miller Bonsai Bag.
Young Designers on the Rise
Loewe has had a meteoric rise in the last few years and was famously described by Vogue as a future "avant-garde competitor to Hermès." The Elephant Bag has been making the rounds on social media and was even featured on the trend-setting Eva Chen's Instagram recently.
It is perhaps no coincidence, that J.W. Anderson, as the creative director of Loewe and head of his own personal brand, is also featured on this list. A major designer to watch, Anderson's Pierce Bag has been very popular on Instagram and stands out for its edgy design which highlights a septum-piercing-like detail.
Off-White is having a major year. Founded by Virgil Abloh, who has served as art director for a Jay-Z and Kanye West album, participated in a highly popular collaboration with Nike, and gained popularity as a DJ, this designer is a major one to watch. With their sporty, high-end streetwear and 90s style accessories, Off-White was highlighted in the Vogue interview with industry insiders.
III. Google Trends
With very similar metrics to the Fashionista article, a recent Google report about the most popular search trends showed that Gucci is the most searched brand of 2017. The rest of the top 10 mixed established brands like Saint Laurent and Louis Vuitton with trendy Instagram favorites like Fashion Nova.
The complete list is as follows (in no particular order): Gucci, Louis Vuitton, Chanel, Saint Laurent, Dior, Dolce & Gabbana, Moschino, Fashion Nova, Supreme, Valentino.
IV. Comparison with PurseBop Community
As noted, the bags above reflect global trends from all ages and all levels of purse expertise. Therefore, it does not come as a surprise that the top bags seen on our @boptalk Instagram or tagged with #boptalk are quite different. In the PurseBop community, it's no secret that Chanel, Hermès, and Louis Vuitton rank highly among our favorite brands, in part because of their exclusivity. Therefore, while these brands did not break the global top 10, they would certainly dominate our community's top 10.
While we wrote a post about the top bags on Instagram in August, three months is a long time on the fashion clock, and we wanted to update our Top 10 listing, organized by brand.
Gucci- Marmont, Dionysus, and Soho Leather Disco Bag
Hermès- Constance, Minis, and Jige Clutch
Overlapping most with the Lyst group was Gucci, which serves as a testimony to the brand's accessibility among fashion experts as well as the global community. The most stark difference between global trends and popular bags among the PurseBop population is the presence of less established, new brands like Cult Gaia and Off-White.
While the PurseBop community can appreciate a new talent, there's no denying than we are more likely to open our wallets for established brands with a rich history of quality and exclusivity. That means that brands like Dior, Chanel, and especially Hermès, have the most draw.
Interestingly, the top PurseBop bags seemed to correspond more closely to the top Google searches than the Fashionista top 10 list. The differences between the top Google searches for brands and the Fashionista top bags illustrate interesting facts about shoppers today. It seems that although the types of brands that are searched and recognized have largely remained the same, specific bags from lesser known designers have the capacity to be more popular. Could this mean that brands are losing power? Certainly not in the PurseBop community, where top brand names align with the top handbags.
Do you agree with our top 10 list? Weigh in with your top pics and observations about 2017 trends!
Read related articles below:
PurseBop's Top 10 Bags of 2016
Top 10 Most Digitally Savvy Brands
Top 10 Most Searched for Bags
PurseBop's Top 10 Bags for Summer 2017
Love, PurseBop
XO