It would seem my love for the Hermes Kelly and the Birkin vacillates back and forth as quickly as the rally of a tennis match  at the French open…
But if the truth be told, I do enjoy each very differently. This adventurous Indian trip I have undertaken with my new Lady Vermillion B connects me to the undeniable passion Hermes fashionistas feel for the Birkin.
Shall we…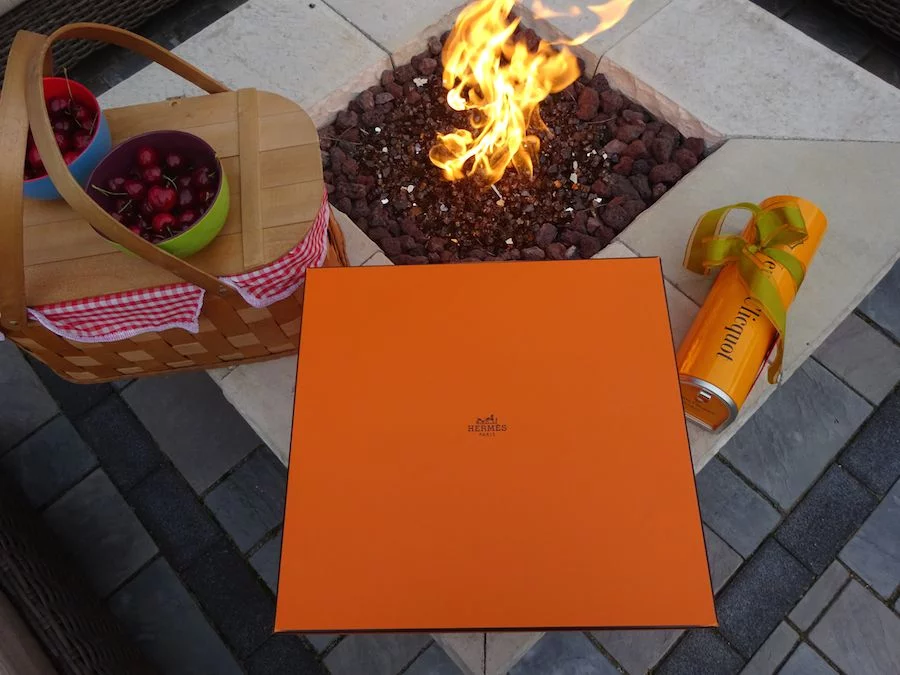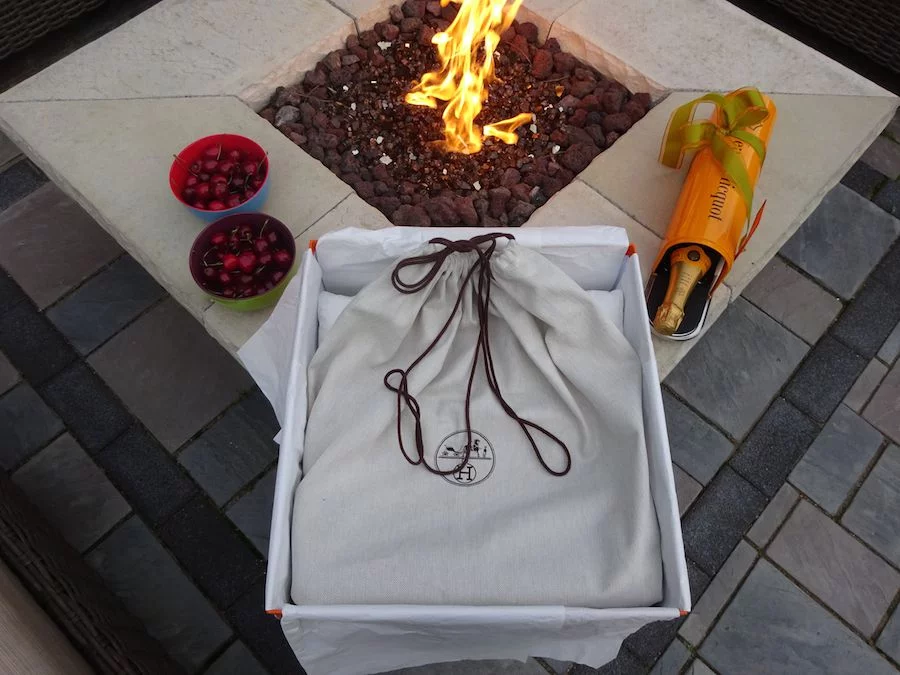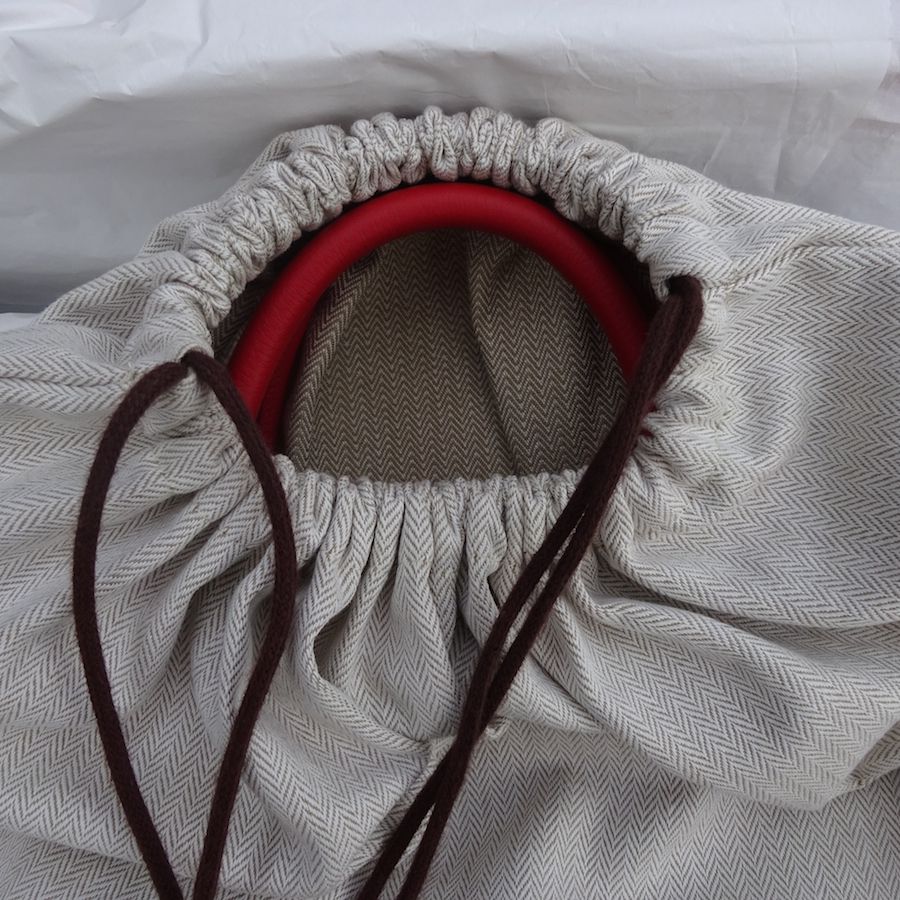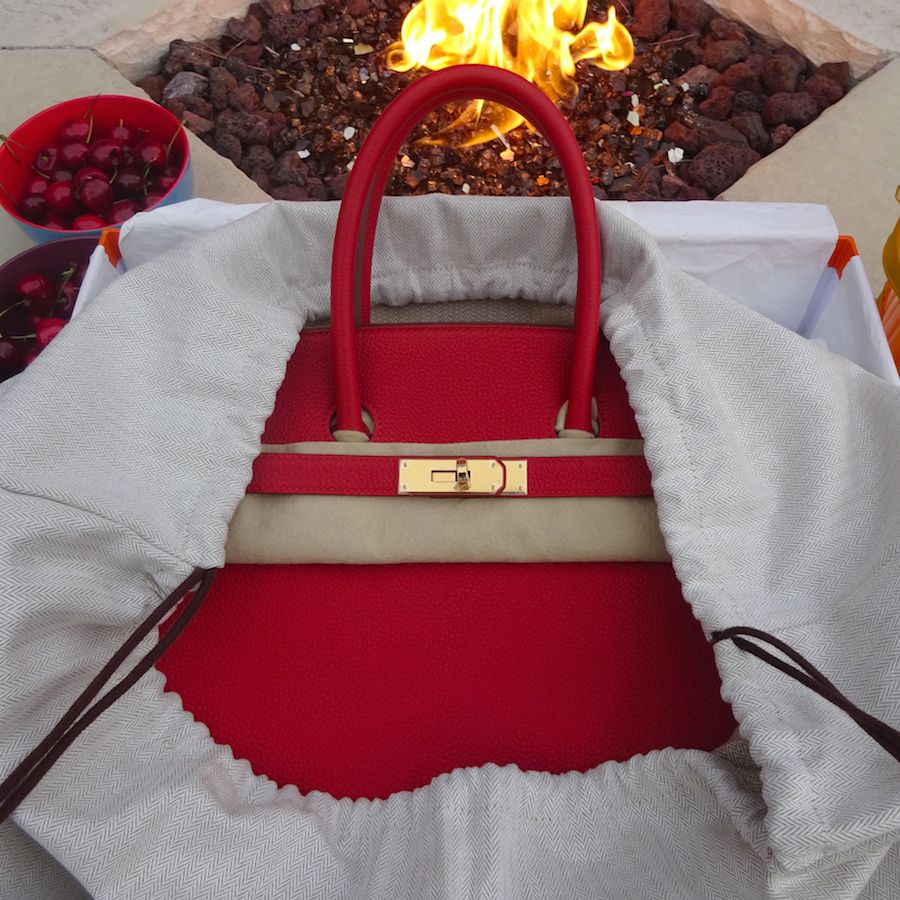 Color
It's no secret PurseBop's achilles heel for color is RED. I love any and all shades of RED (which is evident from my extensive RED Chanel collection).
Naturally, the RED obsession had to transfer over to Hermes. My new B is in the shade "Vermillion" Red. Hermes Vermillion is a true fire engine red. Compared to other reds in the Hermes family—like Rouge Casaque which is a true blue-red or delicious apple-red, or Rubis the pink hued  red—Vermillion has a little more warmth. It has a hint of orange in bright natural light and turns to a slight deeper red in darker settings. The ambiguity makes it a true chameleon. There honestly isn't a red shade that I wouldn't want! However since this is my first H red, it will always be a special favorite to me. The Vermillion shade of red happens to be my favorite color for nail polishes and lipsticks too! For now, one Hermes RED down, and several to go!!
As a red connoisseur, I have somehow mapped out "summer reds" versus "winter reds". To me, Vermillion is a shade that looks fabulous in summer heat and sun. It works well with tropical vibrants, shades of orange, coral, pinks and even purples. Having used it a couple weeks traveling tropical climates, I can vouch for it's versatility. Blue based reds can be a little more challenging for me personally with summer wardrobes, but absolutely ideal for our never ending Chicago winters.  I anticipate that it will look lovely in the fall too, since the slight hint of orange will complement autumn shades.
To play dress up with the Hermes Rainbow, check out The Many Shades of Hermes with fabulous color charts from @italianfashionista.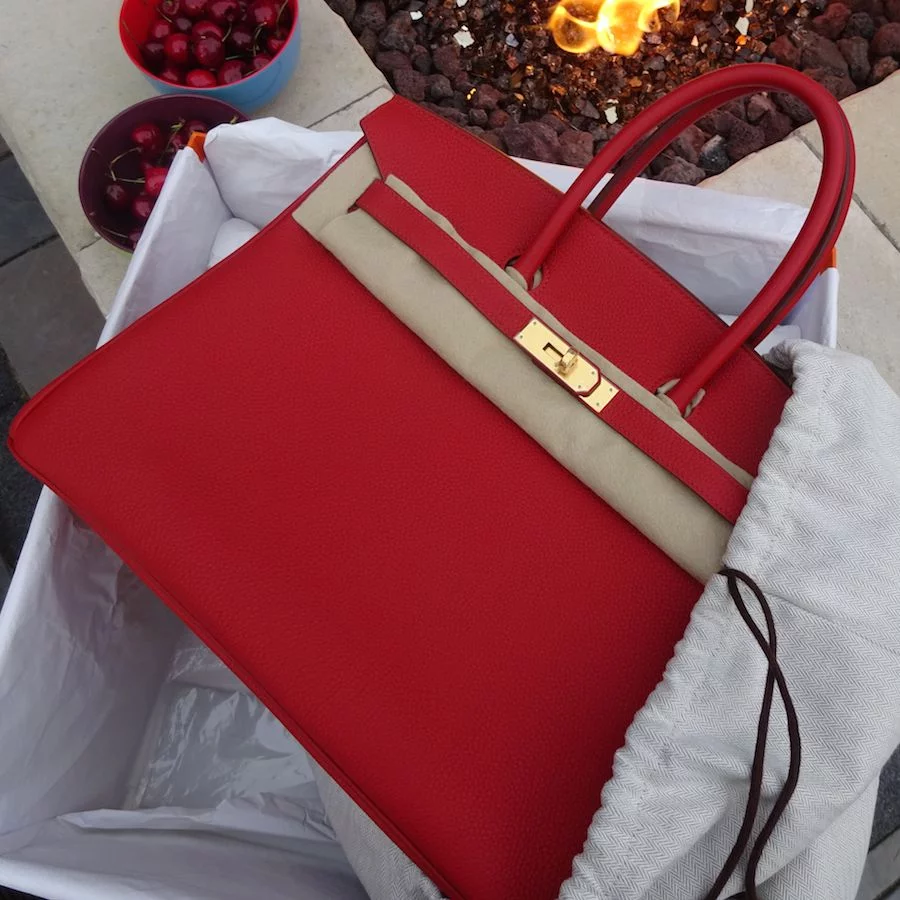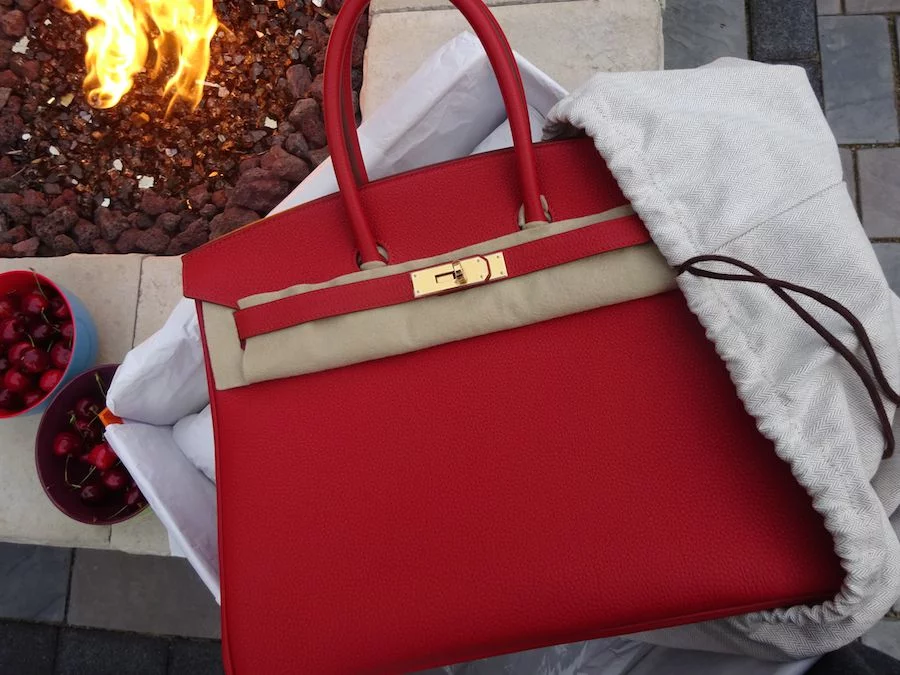 Size
Lady Vermillion B is a size 35. I have not yet had the opportunity to try smaller, and look forward to that someday soon. Yet, Miss B has proved to be the perfect travelling bag! Although, I tend not to carry much on a regular basis, there is plenty of room to expand if needed.
I outline travel tips here: HERMES Bags and Travel
Due to the size, I do not find the B35 to be an evening bag. The Hermes Kelly and other mini bags have proven to be my go-to night out bags. However, since I love to 'nest' my bags, putting a mini inside Lady Vermillion B is no problem!
I outline my evening preferences here: Does the HERMES Kelly Trump the Birkin?
Lady Vermillion B35 makes a bold statement wherever she goes! I admit that the B has a certain drama that I am growing to love. 
Leather
Delighted that my B is in Togo leather. Togo leather is a favorite among Hermes lovers as it is scratch resistant and maintains it's shape. Togo leather has smaller grains compared to Hermes' Clemence leather, which is also textured. Yet to the touch, Togo leather is crisp and smooth, and the grains give it that raised luxurious appearance. My first Birkin, the SuperBagXLVIII is in Epsom,  so I am looking forward to comparing the feel and wear of each.
Lady Vermillion B really pops in Togo!
To learn about the other leathers Hermes offers: Hermes Learning Process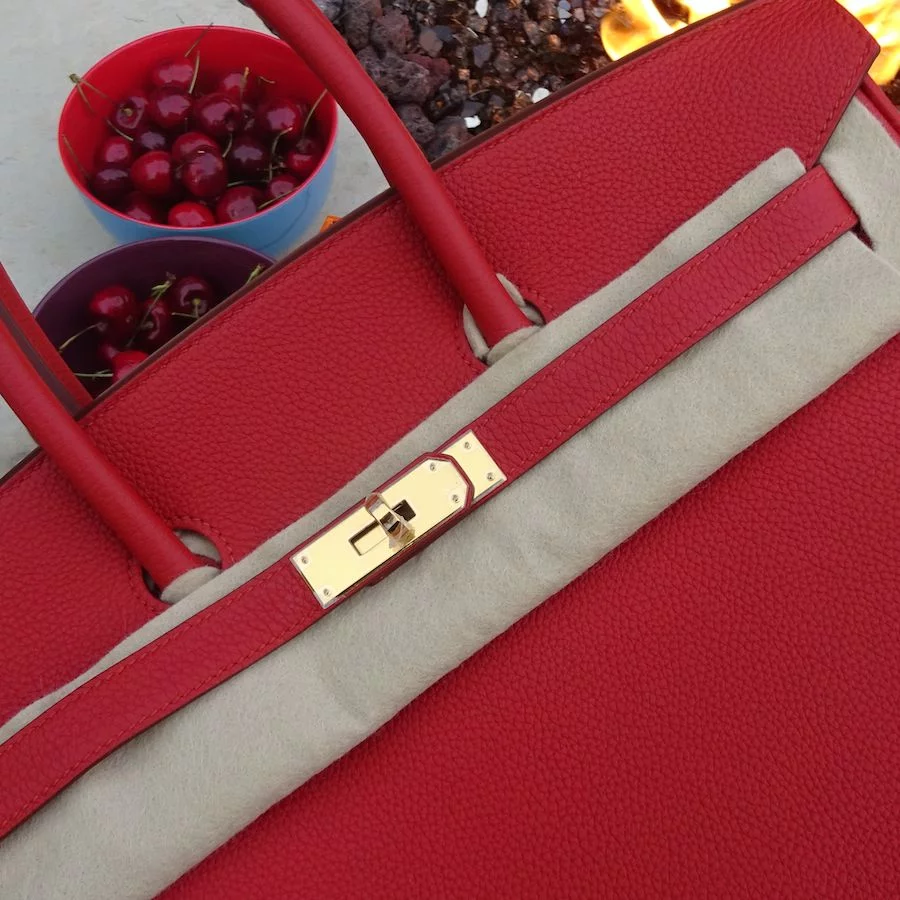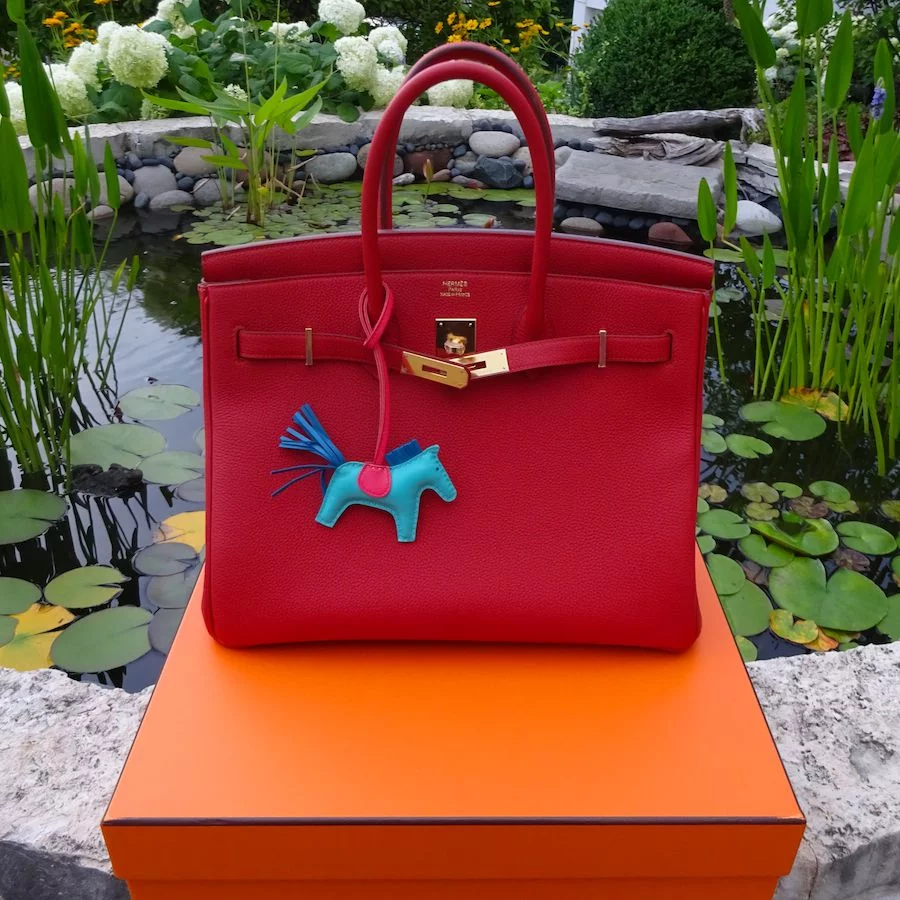 Now that we have made it through the reveal and the basics, may I begin sharing with you the real photography fun… stay tuned for Part 3!
Love your PurseBop
XO