Part two takes me back to that very special day where not one, but two extremely rare treasures were granted to me by the Hermès fairy. I had barely recovered from the sight and smell of Barenia when my sales associate gently nudged me to the side table.
He proceeded to explain a little bit about the special leather as well as the process by which a store acquires one… it's called a "push offer," he said – "essentially a surprise delivery to the store." Hermès likes keeping everyone on their toes so from time to time a store receives a special rare piece that cannot be otherwise ordered at podium or special ordered.
My dear SA then outlined the internal store diplomacy that allowed him to make this special offer to me or in his words to "a very special client".  I am sure I was beaming ear to ear. In a nutshell, I had just won the Hermès jackpot because this was beyond conceivable —Barenia + Box in the same day?
Read:  Aging Gracefully with Hermès Barenia Leather and The Beauty of Box Leather
Let me digress for a moment and explain to you why this is the first Constance in my Hermès collection. Being a Chanel girl for many, many years (far more than I care to share) has given me the opportunity to tote every color, size and leather shoulder bag known to man and the esteemed House of Chanel. So, to be perfectly honest, I wasn't so interested in or excited about carrying yet another shoulder bag. Hermes drew me in with handheld totes like the Birkin and the Kelly; something Chanel did not offer at the time. The Birkin/Kelly style was far more of a refreshing and novel feel for me.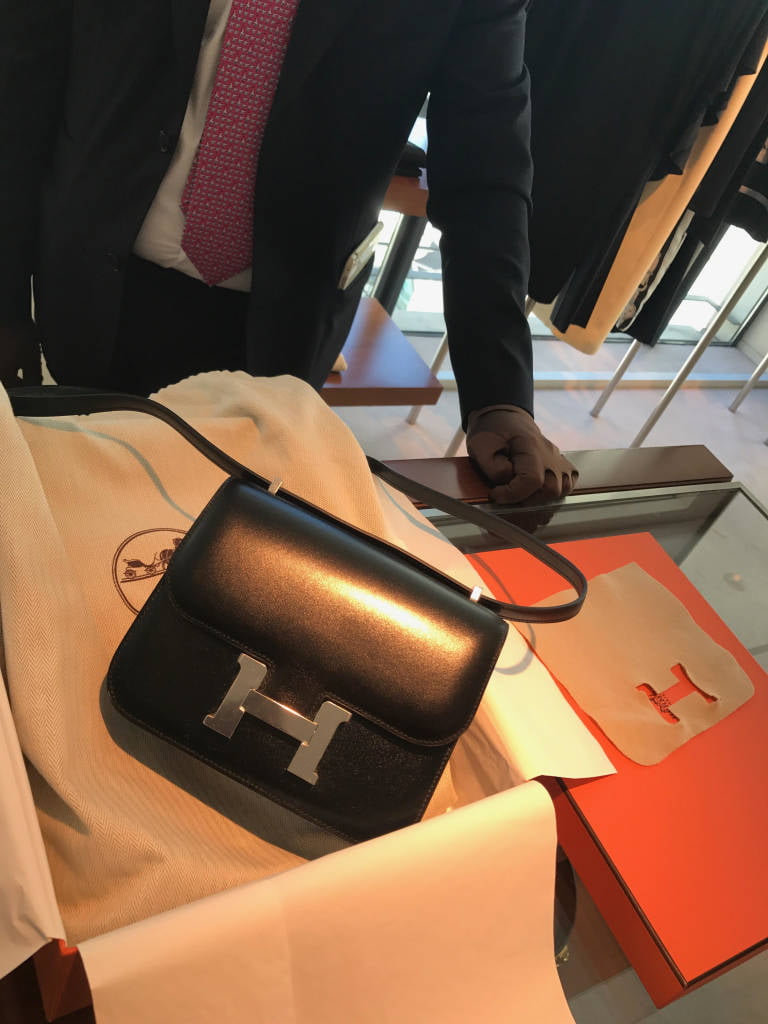 Despite being offered several beautiful Constances, somehow I was never able to justify the expense over a Birkin or Kelly. However, in the back of my mind, I always knew that some day, somehow, one would come along that would take my breath away and find its way into my Chanel and Hermès collections.
Well, this was certainly it. Its shiny black smooth surface combined with its mini size and shiny palladium hardware captured my heart. The palladium was actually quite refreshing and I have often found myself at a loss for a bag in the evenings when silver was the desired metal. For me, this mini 18 cm size would be perfect for evenings out and the ideal nesting bag for travel (read: How To Travel With Handbags).
My only experience with box leather at that time  was my Delvaux limited edition Brillant (read: Delvaux #8… from Brussels to Chicago). I confess that as gorgeous as it is, I have not used it enough to really understand and appreciate the beauty and unique properties of box.
I previously had declined offers for epsom and swift C's – the shape was always a bit blah to me and none of those bags felt really special…. remember I was a Chanel flap girl. The moment this box Constance appeared, however, my mind began conjuring up globe-trotting scenarios with this majestic cutie in tow. Box C would be perfect with tall black boots, winter coats, wool dresses.  In other words, she would be the perfect autumn/winter travel companion: The ideal size to place in one's lap at tight dinner settings, sling over the shoulder at cocktail events to be handsfree or carry handheld as a small clutch or strap doubled to make a bolder statement.
This was an Hermès day to remember and cherish, as I doubt it can get any better than this!
Whew. I'm still breathless and relieved that's this one's done and we can move onto the next? Yes, yes… there's another coming. Mr. PurseBop has insisted it sits under the tree till Christmas, ugghh.
Love PurseBop
XO
Updated: January 14th, 2018