by Morgan Robinson
We all daydream of that Confessions of a Shopaholic movie moment when we raid a store and buy whatever our heart desires. (yes, hang on to that dream as long as you can…)
However, the reality of luxury shopping is that we are faced with tough decisions, ultimatums, and limited funds at times. The best thing, but sometimes most problematic thing, about shopping for bags is that there are so MANY options. First, you have to choose between what type of bag you need, and the array is often endless from everything mini to the biggest tote bags. Then, you might have to break it down by designer. After that, there's the issue of seasonal styles versus classic styles, and the whole shopping process simply gets dizzying.
Today, let's go shopping together and alleviate the worry and confusion. When you're faced with a tough decision between 'this' bag or 'that' bag, how do you work through it? Many times we may be tempted to go with the "it" bag or most popular bag, but ultimately we have to balance out the pros, cons, and tiny nuances between bags to make the perfect decision for our collections.
Remember, this is a group effort, so let's all put ourselves into the same scenario:
"You are long overdue for a new bag. You've done all your homework, and can't stand to scroll through Instagram, Pinterest, or Tumblr anymore. You've saved up for this moment and enter your favorite department store confidently and fully optimistic that you will come out with your next love. The SA presents you with two bags in your price range, do you choose THIS or THAT bag?"
In each price range $1,000, $1,500, $3,000, $5,000, and $10,000, take a look at all the information and eye candy for each pair of bags to get a sense of how to choose between comparable bags. For fun, cast your vote and see where others stand. Even if you own some of these bags, imagine things as if you had to start all over!
Now, let's do some shopping…
$1000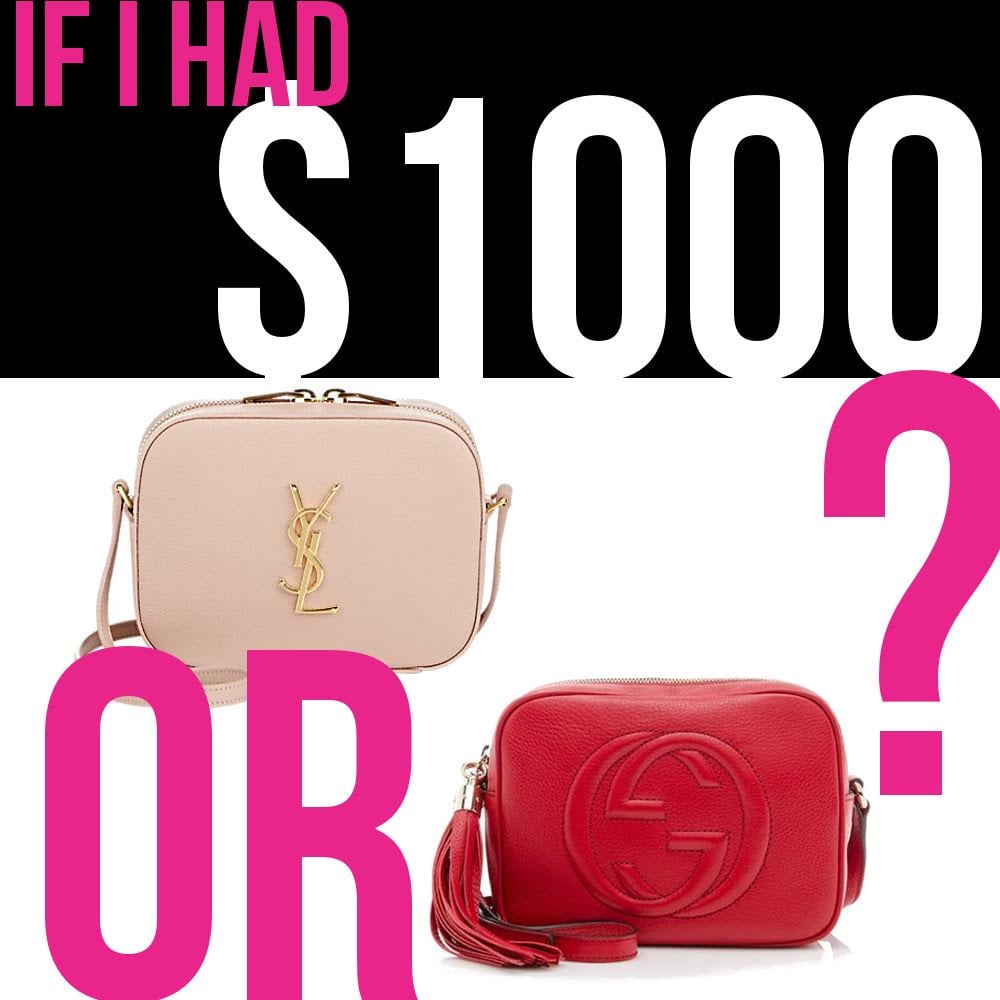 Camera bags are key pieces in any collection and also make great entry-level bags. If you're looking for a camera bag but also something designer chic, would you go for the Gucci Soho Camera Bag or Saint Laurent Camera Bag?
Notable Features
Mini Bag Sized
Long Strap for Crossbody Wear
Saint Laurent Camera Bag – 'YSL' hardware adds an element of dressiness
Gucci Soho Camera Bag – signature 'GG' embossed logo and detachable tassel for extra flair
Price Breakdown
Gucci Soho Leather Disco Bag – $980 via Neiman Marcus
Saint Laurent Camera Bag – $995 via Saks Fifth Avenue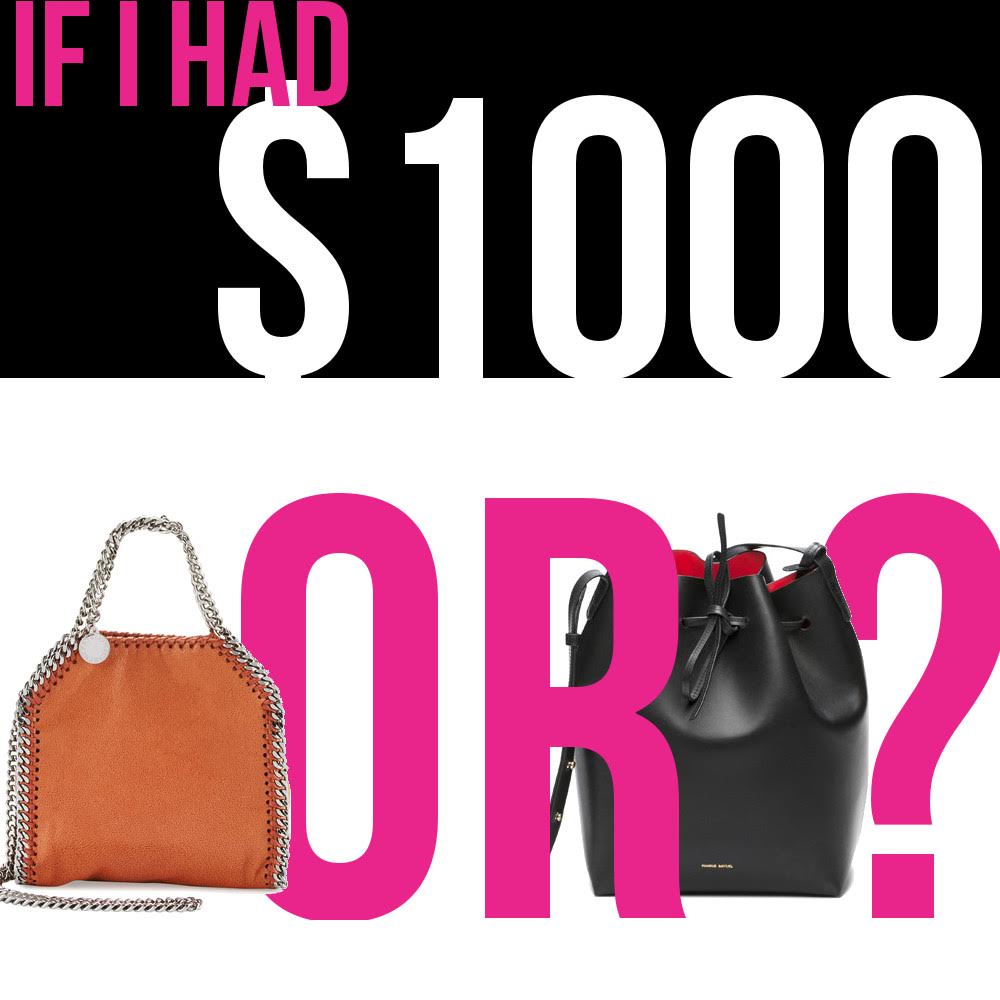 Mansur Gavriel and Stella McCartney make great quality bags with price tags that won't leave you with sticker shock. Mansur Gavriel's Bucket bag is a cult favorite that usually sells out the minute it is back in stock. The Falabella shoulder bag is Stella McCartney's signature style and a trending favorite as well. These two bags have very different looks, but are similar in the sense that they hold true to their brand's missions of quality and affordability. Which one suits your fancy more?
Notable features:
Stella McCartney Falabella – Foldover tote bag with a versatile loo. Made out of vegan materials.
Mansur Gavriel – Classic bucket bag style
Stella McCartney – Bold metal chain is the focal point
Mansur Gavriel – Leather drawstring detailing is the focal point
Price Breakdown
Stella McCartney Falabella Tiny Shoulder Bag – $745 via Neiman Marcus
Mansur Gavriel Bucket Bag (Large) – $595 via Barneys
$1500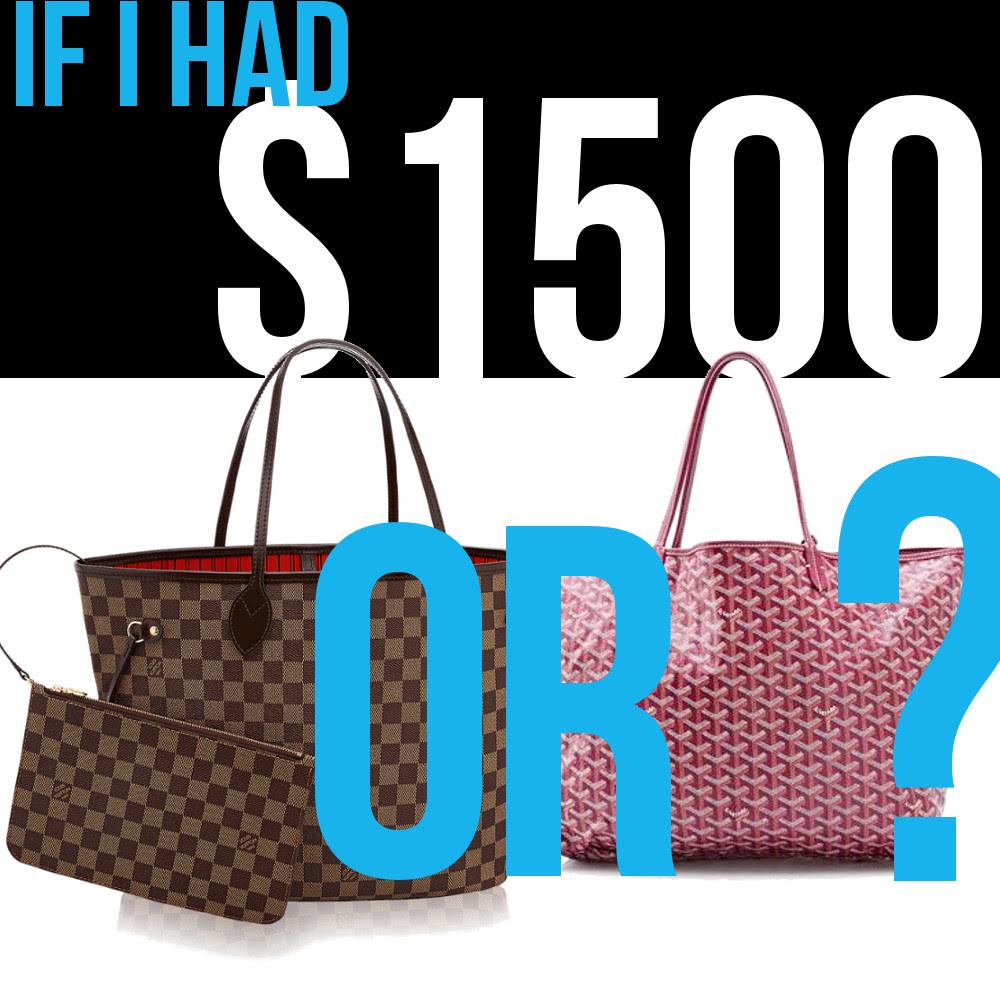 The battle between the Louis Vuitton Neverfull versus Goyard Saint Louis totes never seems to end. We've compared these bags in our guide to the best designer tote bags and seen them in action in celebrity showdowns. Even after all the comparisons, can you even pick?
Notable Features
Cavernous, carry it all totes
detachable pouchettes
Can be customized with initials and patterns
Louis Vuitton Neverfull – can be cinched in at sides for a slimmer look
Goyard Saint Louis – waterproof material
Price Breakdown
Louis Vuitton Neverfull MM – $1,260
Goyard Classic Colors GM – $1,375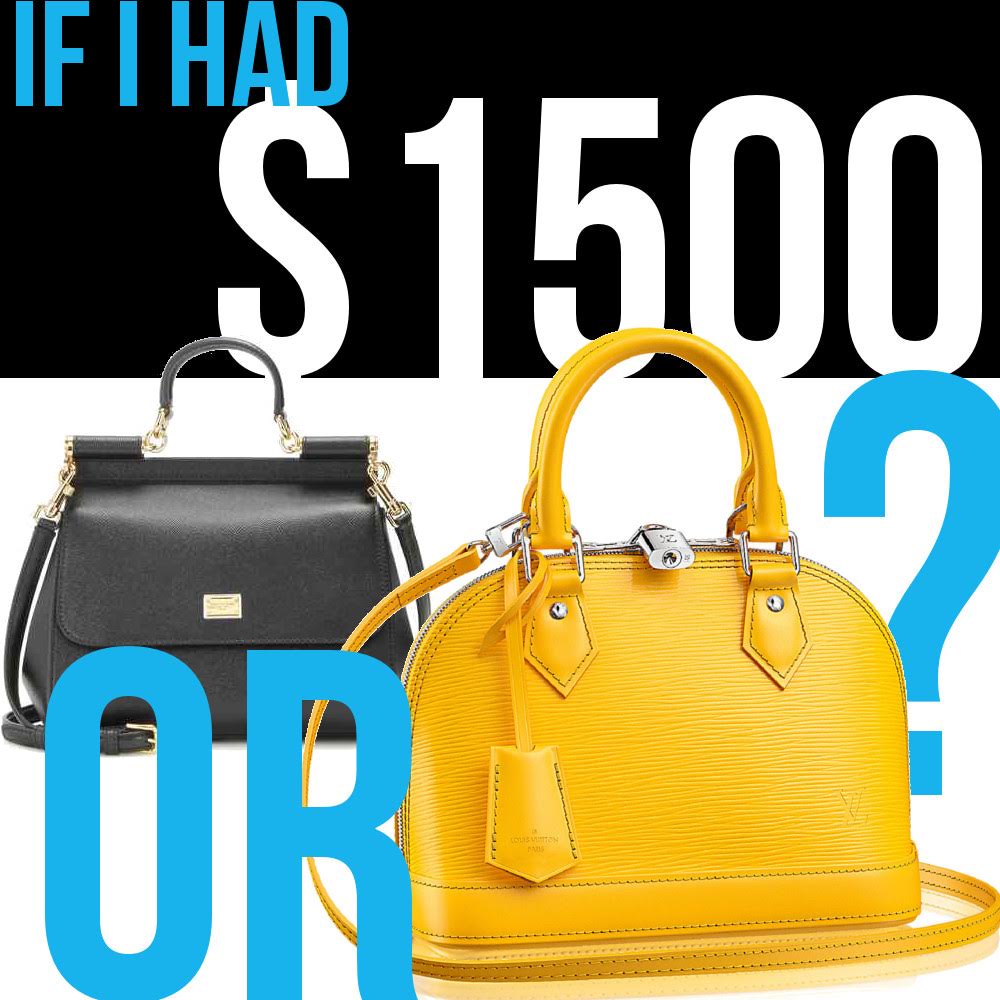 The Louis Vuitton Alma and the Dolce & Gabbana Miss Sicily are both sleek, top-handle bags with feminine charm. Both bags are staples in each fashion house's collection, but which one fits your signature look better?
Notable features:
Both come with detachable straps for optional crossbody wear
Top Handles offer a sophisticated, lady-like look
Subtle logos
Louis Vuitton Alma – Double zipper opening
Dolce & Gabbana Miss Sicily – Magnetic flap closure
Price Breakdown
Louis Vuitton Alma BB (Epi Leather) – $1,590
Dolce & Gabbana Miss Sicily (Small) – $1,690 via Nordstorm
$3000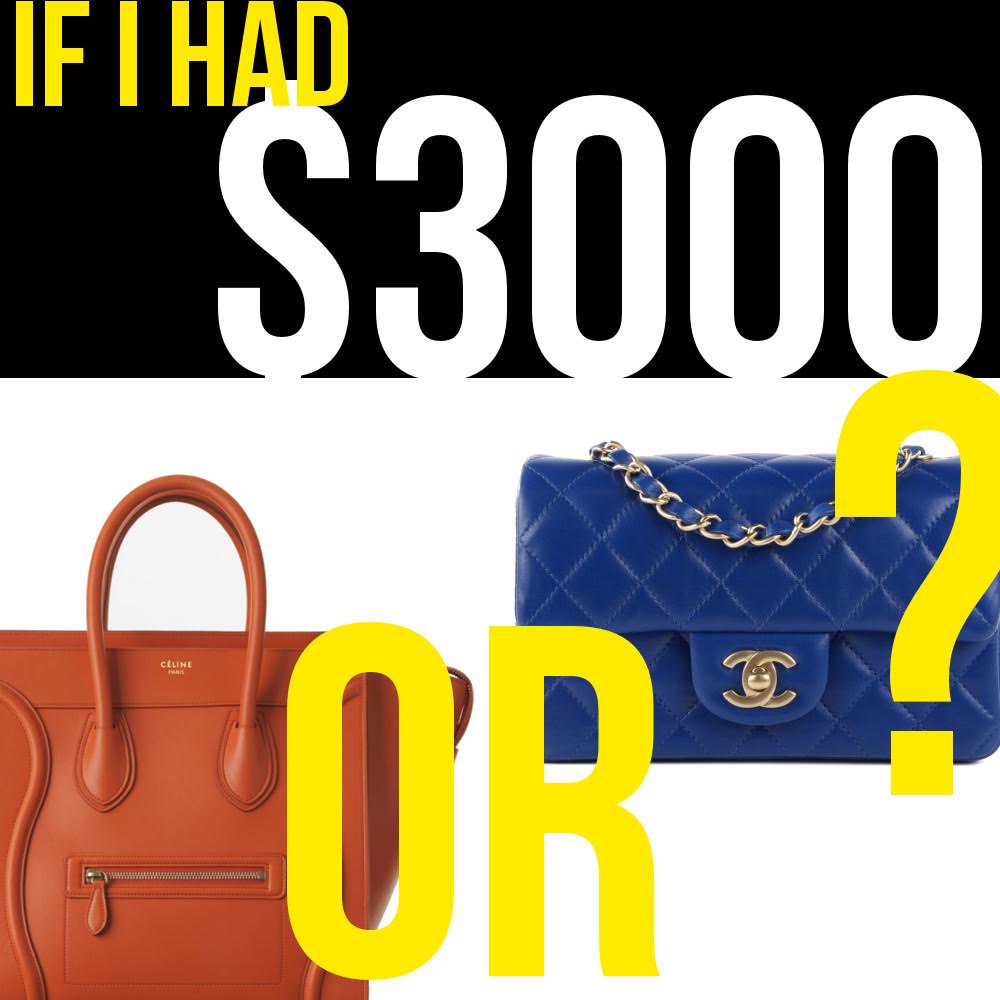 Battle of the minis! The Chanel Classic Flap and Celine Luggage tote are very popular bags that have gotten a lot of exposure from bloggers and social media enthusiasts over the past few years. Even though one is a flap bag and one is a tote, both bags can serve similar purposes due to their mini capacity. Both bags have managed to win over a lot of hearts, but which one has you head over heels?
Notable Features
Chanel Rectangular Mini Classic Flap-Quilted material, jewelry like chain, and iconic 'CC' hardware
Celine Micro Luggage Tote – Tote bag silhouette allows for a bit more room, zipper detail on front, distinctive lines and angles
Price Breakdown
Chanel Rectangular Mini – $2900
Celine Micro Luggage Tote (solid leather) – $2900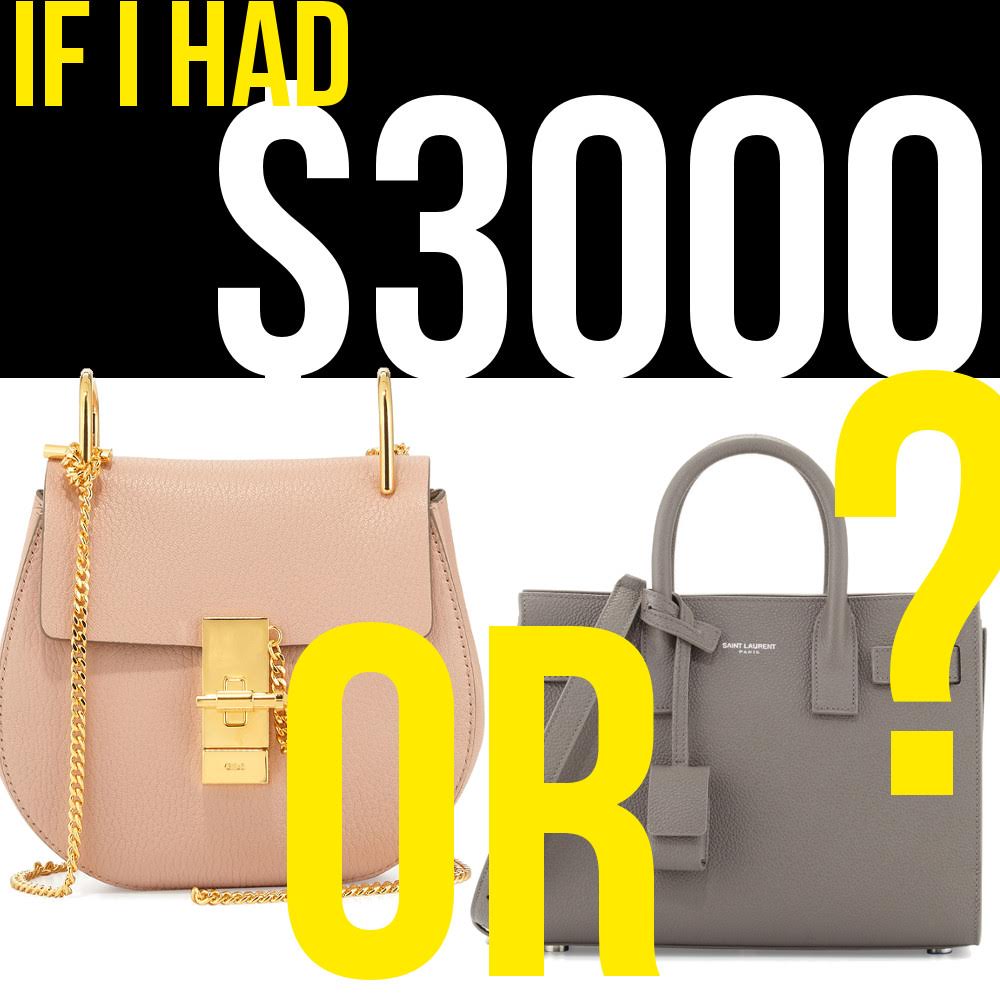 The Chloe Drew Bag and Saint Laurent Sac de Jour both became stars on the bag scene pretty quickly after their releases. The Drew Bag is a saddlebag and the Sac de Jour is a tote bag, but they both have a modernized aesthetic focused on clean lines. Both bags have a similar, chic appeal, but what's your favorite?
Notable Features:
Mini Bags
Sleek, clean lines
Chloe Drew Bag – Jewelry-like chain
Saint Laurent Sac de Jour – Functional tote with compartments and zippers for easy organization
Price Breakdown
Chloe Drew Bag (Mini) -$1,650 via Neiman Marcus
Saint Laurent Sac de Jour Bag (Nano) – $1,990 via Barneys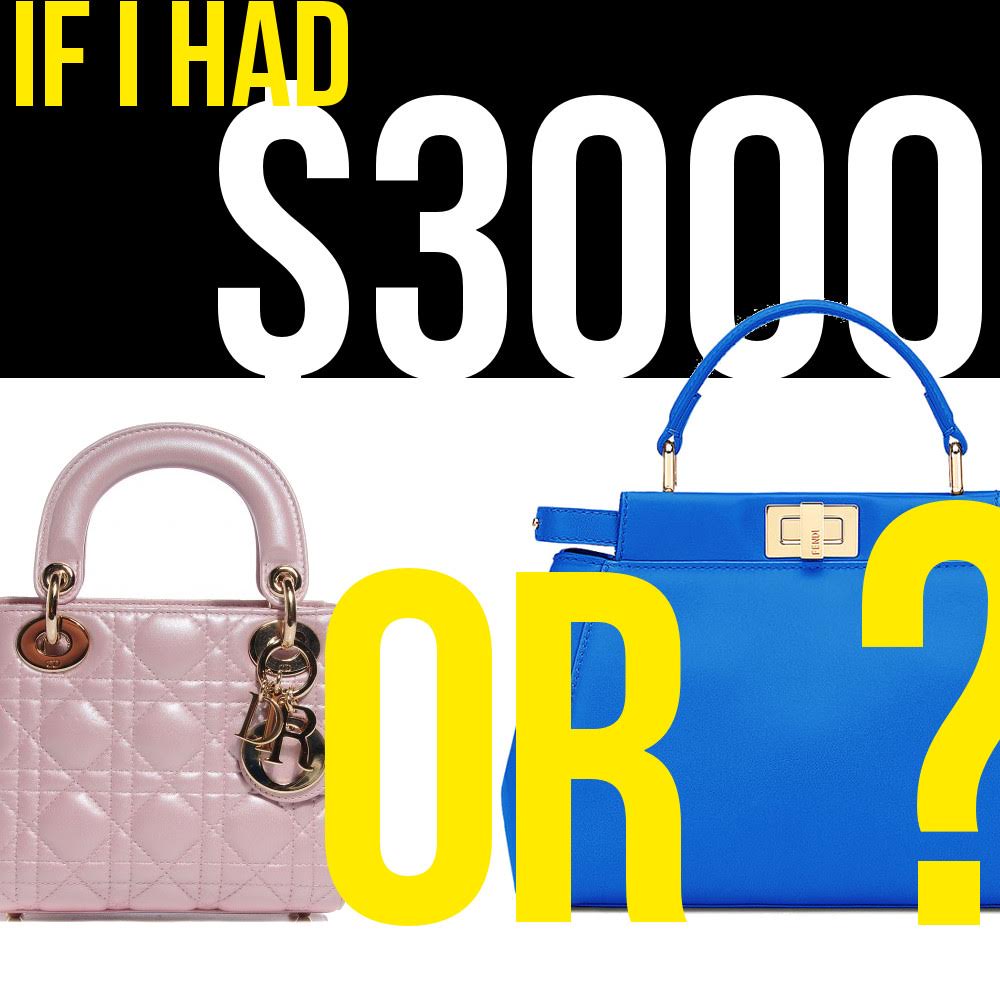 The Lady Dior Bag and Fendi Peekaboo have been officially named as "it" bags at some point or another. However, they are both making waves again in their mini form. These bags can stand in a "this or that" faceoff because the dedication to craftsmanship is very evident in both.
Notable Features
Top-Handle Styles
Mini Bags
Lady Dior – quilted material with charm detail
Fendi Peekaboo – subtle hardware detail in plain leather versions and elaborate, eye-catching embellishments in more decorative versions
Price Breakdown
Micro Lady Dior – $2,950
Fendi Mini Peekaboo – $3,150 via Neiman Marcus
$5000
Can you even bear the thought of choosing between two iconic Chanel bags? We've talked extensively about the many differences and style options for both the Chanel Classic Flap and the Chanel Boy bag. However, picking between these two bags really comes down to a matter of personal preference. Many people end up adding both to their collections because they are so versatile. However, if you had to pick a first (or only) purchase,  do you go classic classic or for the more utilitarian, sporty boy bag?
Notable Features
Iconic Chanel Bags
Chain straps
Flaps
Usually quilted material
Many different sizes from mini to maxi
Price Breakdown
Chanel Classic Flap Bag Medium – $4,900
Chanel Boy Bag Medium – $4,700
$10,000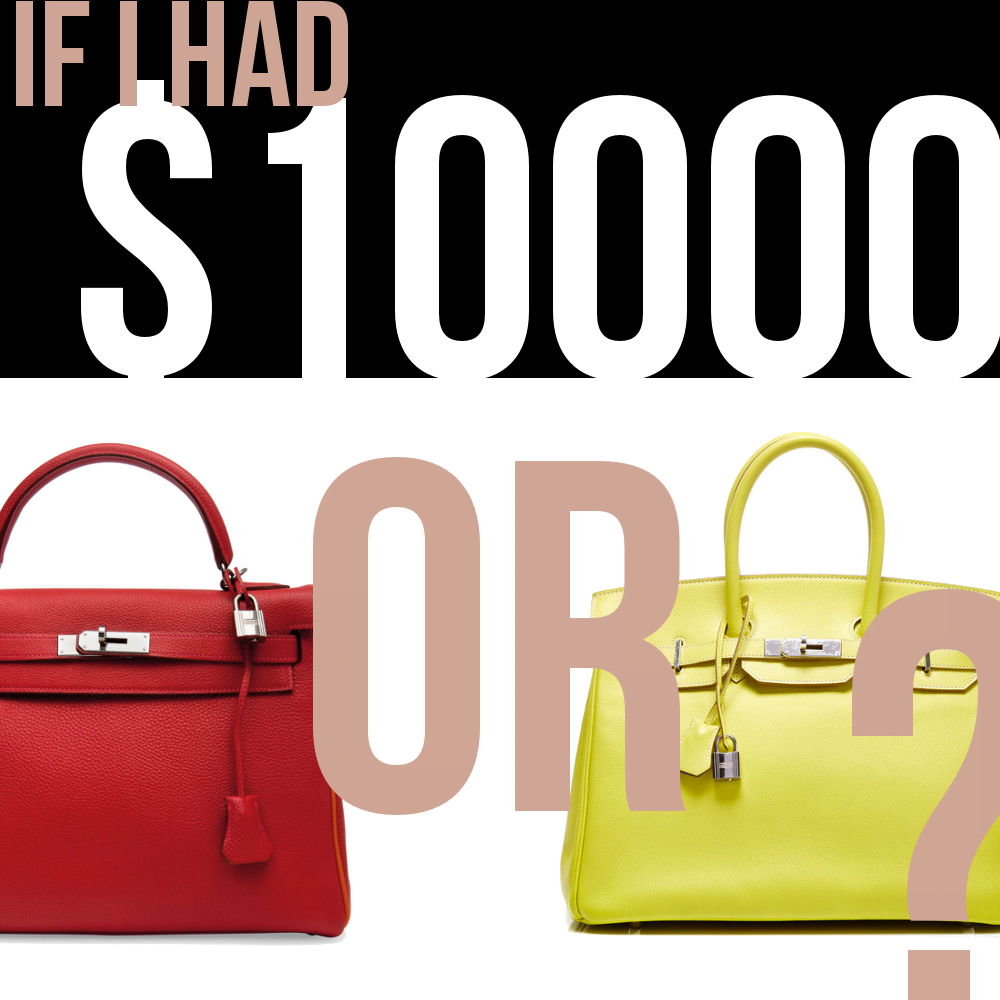 The age old question…are you on Team BIRKIN or Team KELLY?
Both the Birkin and Kelly are iconic Hermes bags that frequently top people's ultimate holy grail bag lists. Due to their exclusivity, there are often long waiting lists for the Birkin and Kelly.  However, if you were presented with the opportunity to buy one or the other in the moment, would you go BIRKIN or KELLY?
This truly a tough choice! For a full rundown of the pros vs. cons of the Birkin and Kelly, catch up with our Hermes 101 Class.
Price Breakdown
Hermes Birkin (B35) – $11,900
Hermes Kelly (K32) – $10,400
Updated: June 26th, 2019