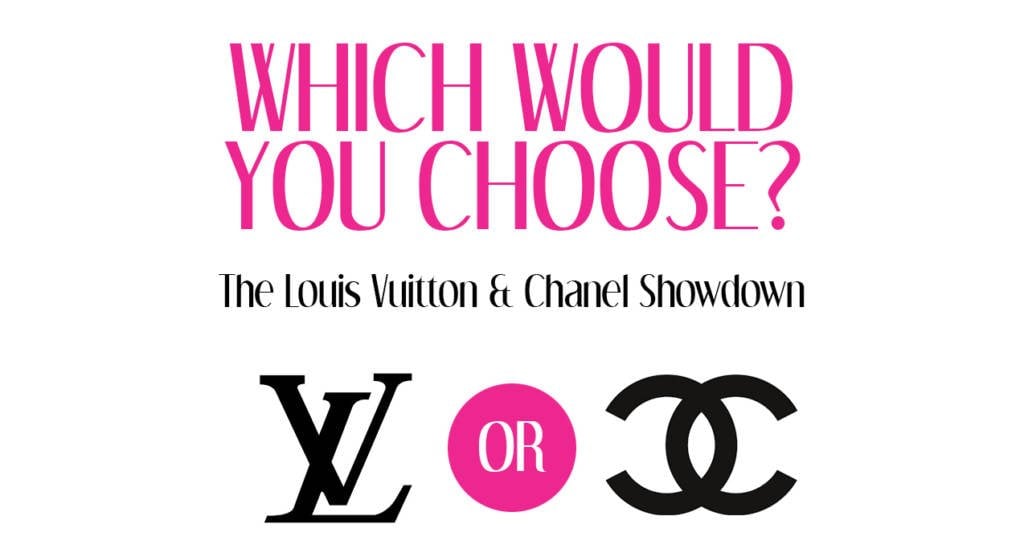 Two bona fide classics: Louis Vuitton and Chanel. Parisian flair, Old World elegance, and contemporary chic come together in these two haute French maisons. Handbags from both brands are staples in the closets of fashionistas around the globe. Just try walking down the streets of Milan, Paris, New York, or Hong Kong for a day without spotting more than a few "LV" logos and interlocked CCs—you'll likely find it impossible.
It's when it comes to choosing between the pair that the going gets tough. Even if you generally prefer one brand over the other, you probably have some Chanel favorites and some LV ones; maybe you adore the Chanel WOC, but in the face of totes will always reach for the LV Neverfull. So instead of comparing the brands in their entirety, we thought we'd do another PurseBop favorite: a "This or That" showdown. Scroll through our curated selection of LV and Chanel bags in different categories—day-to-night bags, totes, and more. We can't wait to see whether LV or Chanel will capture your heart…
Day-to-Night Cross Bodies
Louis Vuitton Pochette Metis vs. Chanel WOC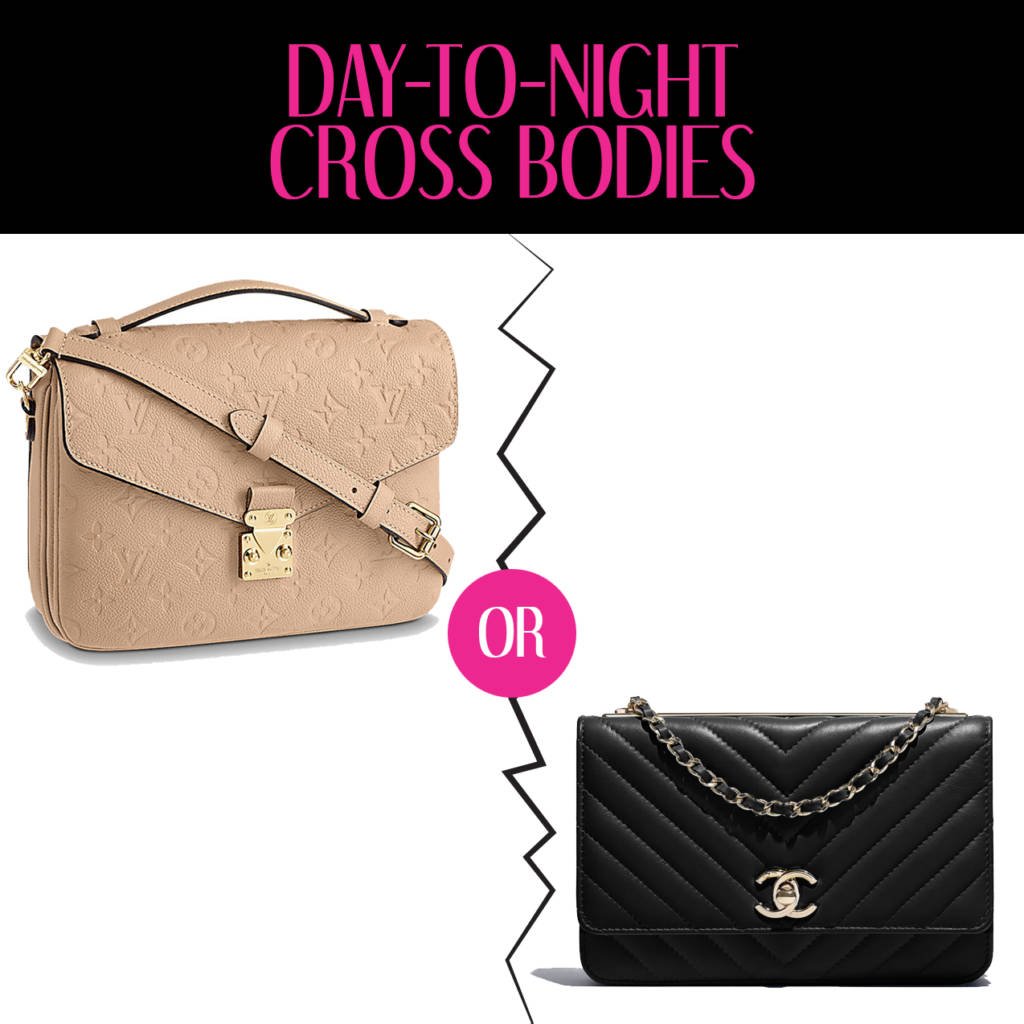 THIS OR THAT:  Which small crossbody do you envision slinging over your shoulder from sunrise to sundown? The lovely Pochette Metis, or the ever-elegant WOC? Although they're very similar, the Pochette Metis has a bit more room, while the WOC remains just a tad dressier.
Read more about the two bags:
Handheld Flaps
Louis Vuitton Capucines vs. Chanel Coco Handle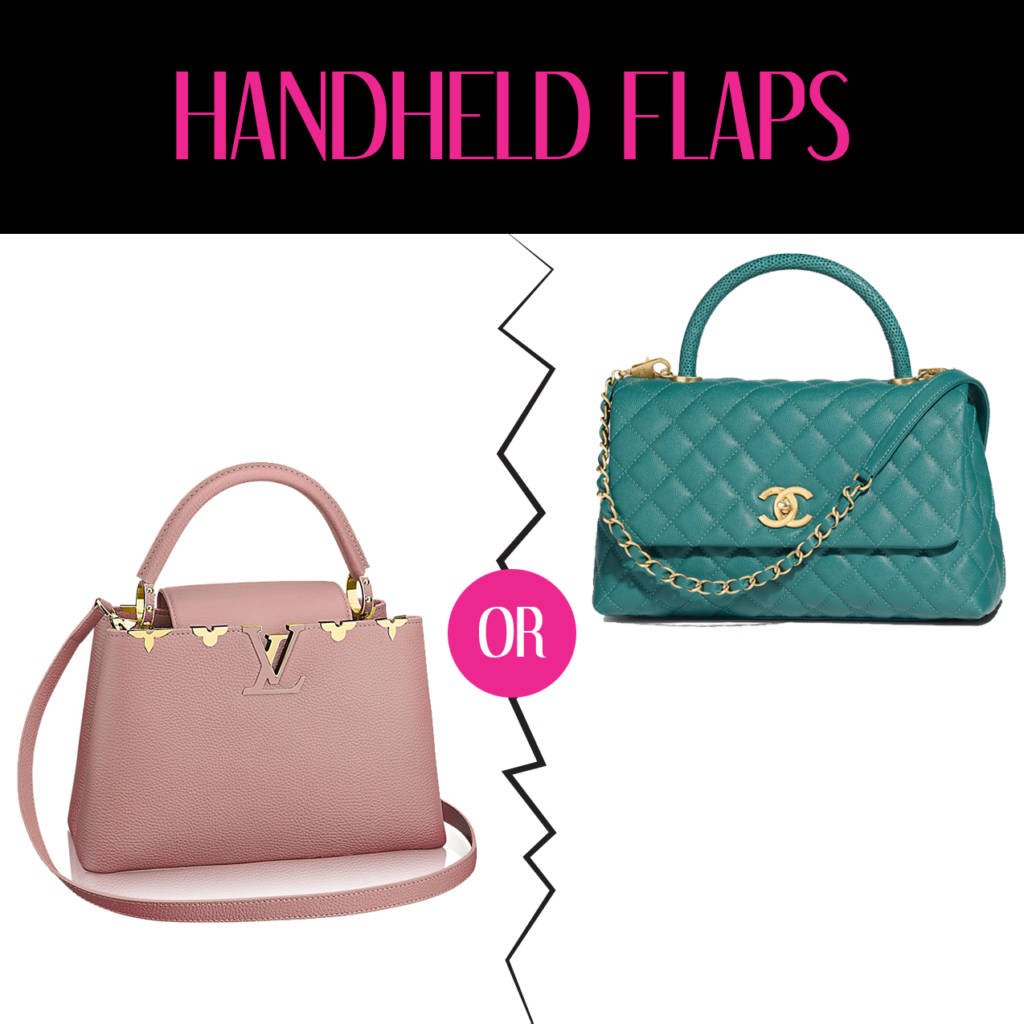 THIS OR THAT:  If you were to go shopping for a structured, everyday bag, would you end up purchasing the new versatile LV darling, the Capucines, or the quilted Coco Handle, which resembles a cross between the classic Chanel Flap and the Hermès Kelly? Both can be worn over the shoulder or in the crook of your arm, and both have plenty of room, so it all comes down to aesthetic preference.
Read more about the two bags:
Totes
Louis Vuitton Neverfull vs. Chanel Deauville
THIS OR THAT: Like every busy fashionista, you have a full day of errands ahead of you, with too many things to lug around to count. Would you reach for the trusty Neverfull, or the logo-heavy, slightly funkier Deauville? Both are beloved in the handbag world and perform very similar functions, but stylistically they're worlds apart.
Read more about the two bags:
Bucket Bags
Louis Vuitton Noé vs. Chanel Gabrielle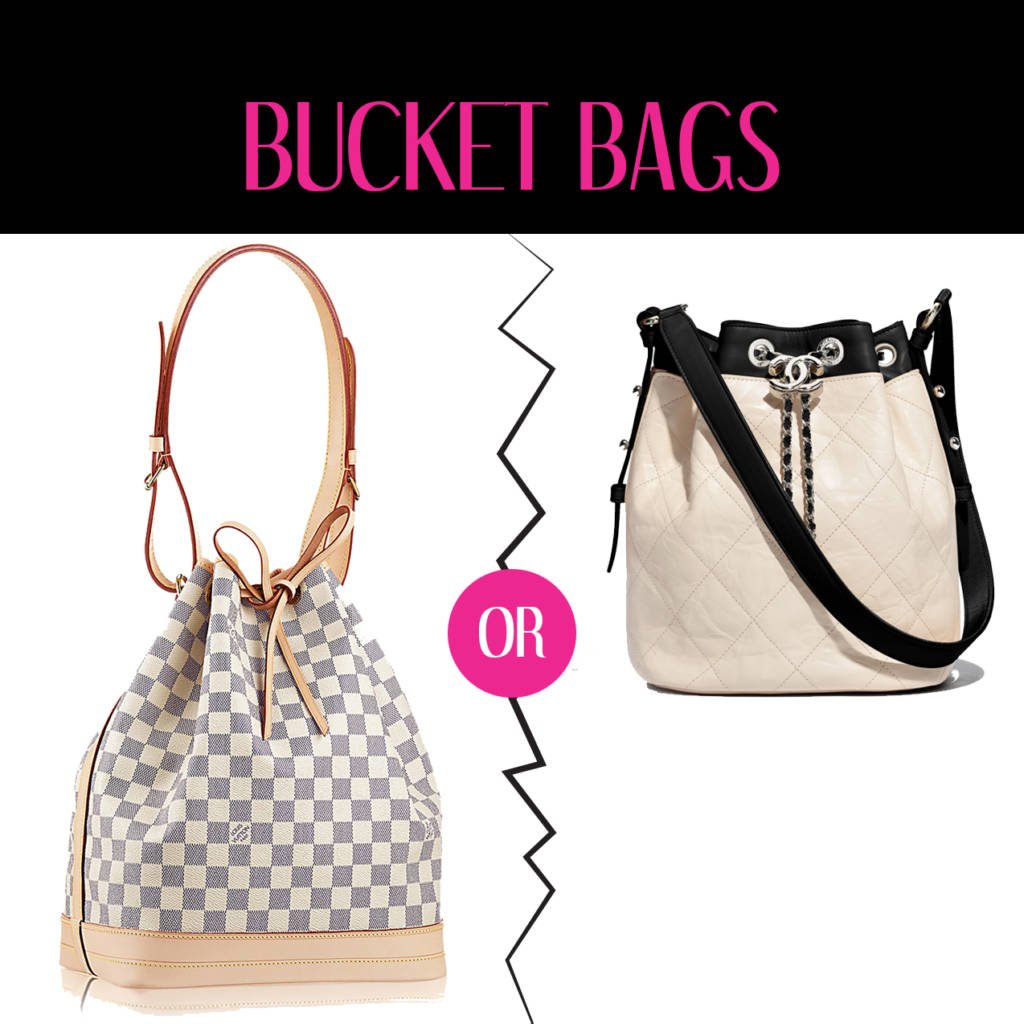 THIS OR THAT: Today, you need the perfect (and on-trend!) bucket bag to complete your carefully styled outfit. Let's say you're wearing a sun dress, a Van Cleef necklace, and your favorite pair of Lanvin flats. Would you complete your look with the timeless Noé, created in 1932, or with the bucket version of the newly-designed Gabrielle…?
Read more about the Chanel Gabrielle:
Backpacks
Louis Vuitton Palm Springs vs. Chanel Backpack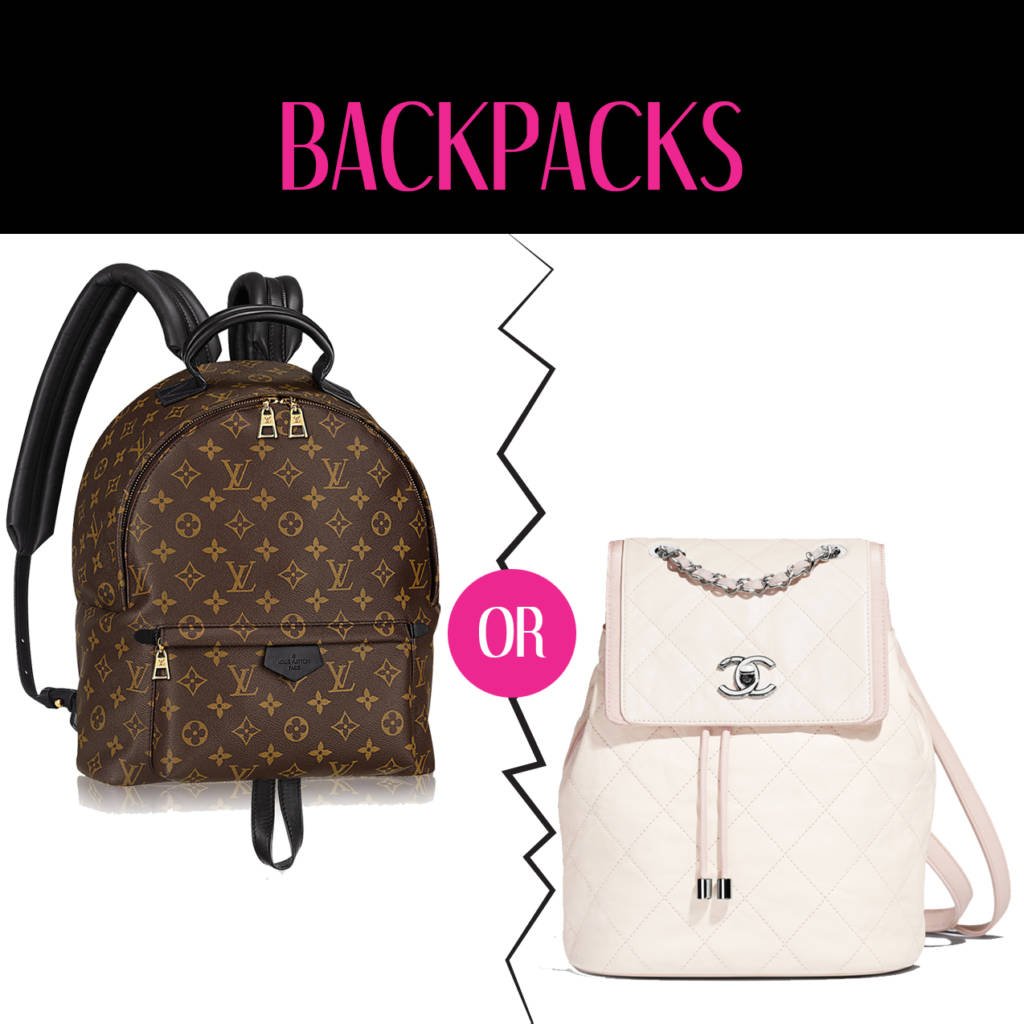 THIS OR THAT: We all know that backpacks are no longer for schooldays only. (In fact, backpacks have become more and more ubiquitous in the past couple of years!) If you wanted a purse to fulfill all of your backpack needs, would you head to the LV boutique for the Palm Springs, with its classic format and zippers, or to the Chanel boutique for a drawstring flap backpack?
Read more about luxury backpacks:
Fanny Packs
Louis Vuitton Bumbag vs. Chanel Waist Bag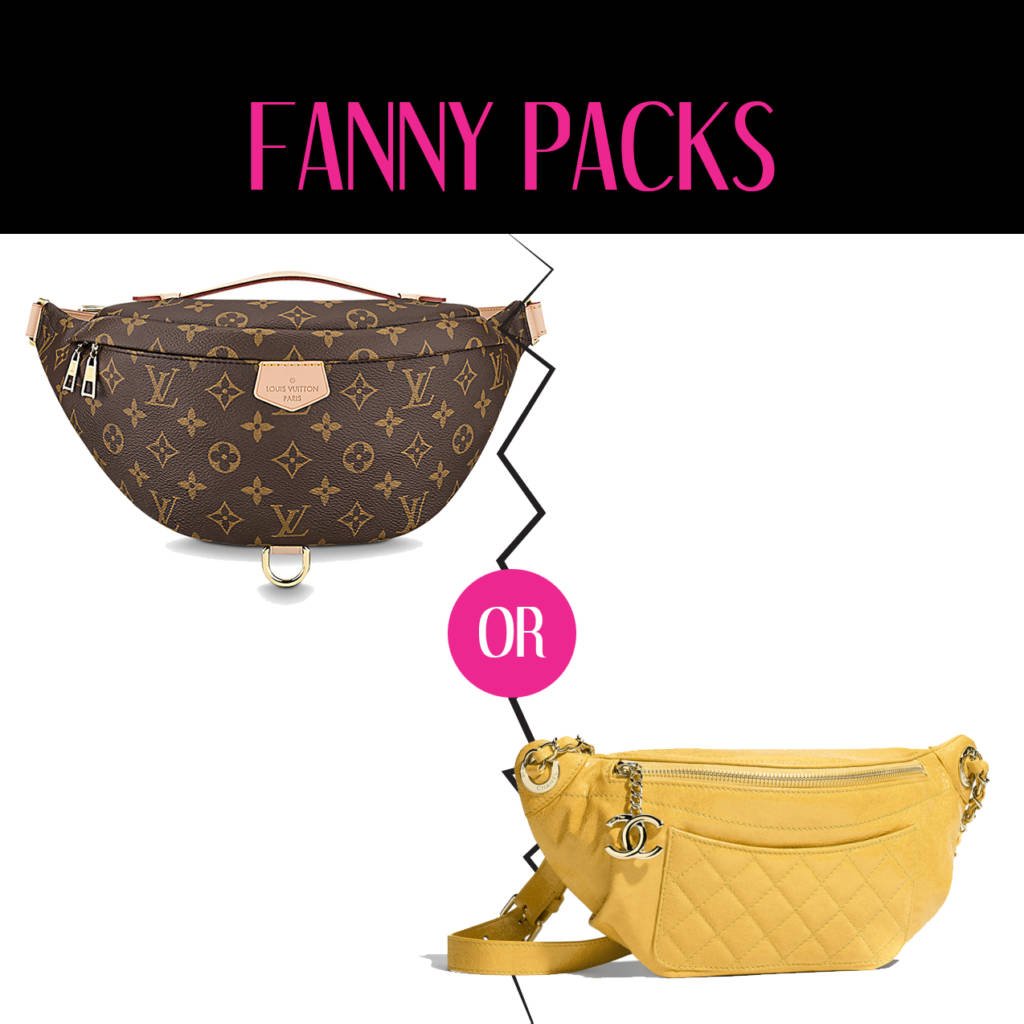 THIS OR THAT: It's no secret that fanny packs are making a major comeback. Scroll through your IG feed, and you're sure to spot more than few on the most envied fashionistas. Let's say you're totally on board with the fanny pack trend. Are you drawn more to the structured Bumbag with the LV monogram canvas, or to Chanel's quilted, slouchy, and colorful Waist Bag?
Read more about fanny packs:
Camera Bags
Louis Vuitton Petite Boite Chapeau  vs. Chanel Camera Case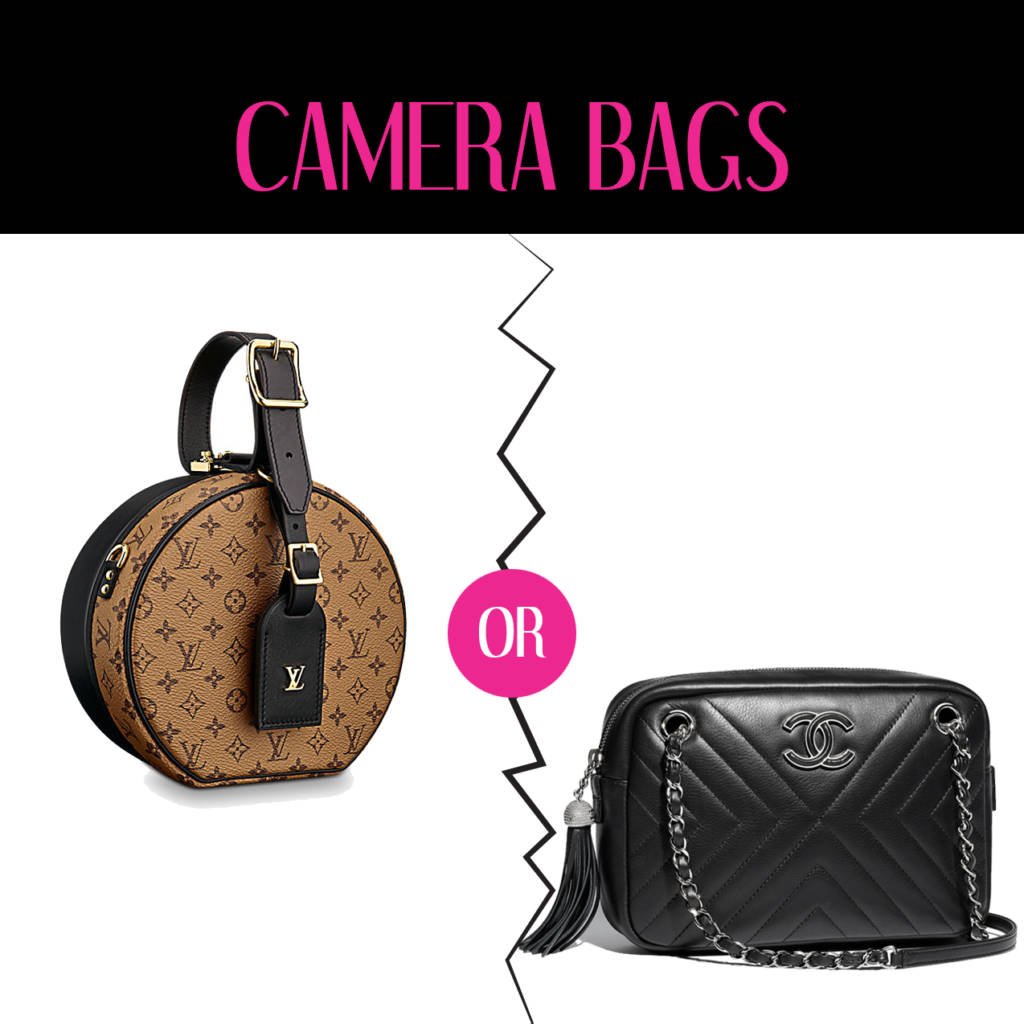 THIS OR THAT: Out of these two beautifully structured camera bags, which would you rather call your own: the circular Petite Boite Chapeau, mirroring a classic hatbox, or the modern yet refined Chanel Camera Case? You simply can't go wrong with either of these two, but there's no denying that the Petite Boite Chapeau is more of a statement-maker.
Read more about the Petite Boite Chapeau:
Recap
Now that you've seen 7 categories of Louis Vuitton and Chanel bags, which brand would you choose for each category? Do you prefer LV's camera bag, and perhaps Chanel's bucket bag? Would you reach for the Capucines over the Coco Handle? We're dying to know what you think!
Let's get the discussion started below. Instead of a poll, we thought a conversation might be more freeing—there's room to explain your choice, and to compare different types of LV bags to various Chanel ones. Feel free, of course, to discuss any bags that aren't on this list and can add to the discussion! Taste is individual, and we want to know our readers' distinctive preferences—especially when it comes to the big brands.
Finally, don't forget to take a look at Chanel's Spring/Summer collection on Bergdorf, here!
Read related articles below:
Love, PurseBop
XO