by Morgan Robinson
Our top priority on PurseBop is listening to our readers. Time and time again, you all have raved over our quizzes because they are another way to share your handbag passions and preferences. Our first quiz, "If You Had $3,000, What Bag Would You Buy?", proved to be a tremendous success. Since you asked for it, we're back with another round of "this or that" handbag challenges from different price ranges.
The "This or That" quizzes are inspired by shopping dilemmas that could arise in real life. As brands churn out new collections and new "it" bag styles hit the shelves, the options in front of you seem to be endless, which only makes the shopping process more confusing. Even if you are able to narrow down the options, oftentimes you need to make a decision between similar bags in the same price range. We go back and forth so much over these seemingly frivolous decisions because in some respects, handbags are investments, and we are looking for the best buy that will add functional and aesthetic value to our collection.
Just like in our first quiz, we are going shopping together to eliminate the worry and confusion. Remember, this is a group effort, so let's all put ourselves into the same scenario:
"You are long overdue for a new bag. You've done all your homework, and can't stand to scroll through Instagram, Pinterest, or Tumblr anymore. You've saved up for this moment and enter your favorite department store confidently and fully optimistic that you will come out with your next love. The SA presents you with two bags in your price range, do you choose THIS or THAT bag?"
In each price range, take a look at all the information and eye candy for each pair of bags to get a sense of how to choose between comparable products. For fun, cast your vote and see where others stand. Even if you own some of these bags, imagine things as if you had to start all over!
Now, let's do some shopping…
*Note: the window will reload after you submit an answer for each question. To complete all the questions, simply scroll down again after the page has refreshed.
$1,500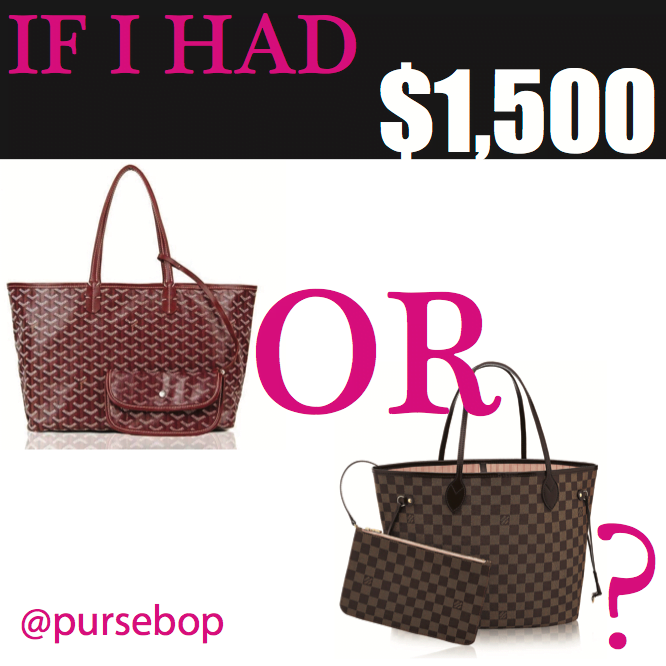 I know, you're probably thinking that we've asked the "Goyard vs. Louis Vuitton question" one too many times. But, we never seem to be able to come to a consensus on the this age-old debate. A tote bag is a staple in any collection, and the St. Louis and Neverfull both have their merits. Both tote bags are highly spacious, have detachable pouchettes, and have options for customization. The Goyard St. Louis is made of waterproof material. The Louis Vuitton canvas is slightly thicker and more structured, and thus is able to be cinched in at the sides. Can you even pick between these two trusted classics?
Read more about these two bags in the articles below:
Price Breakdown
Goyard St. Louis GM (Classic Colors) – $1,375
Louis Neverfull GM – $1,340
$2,000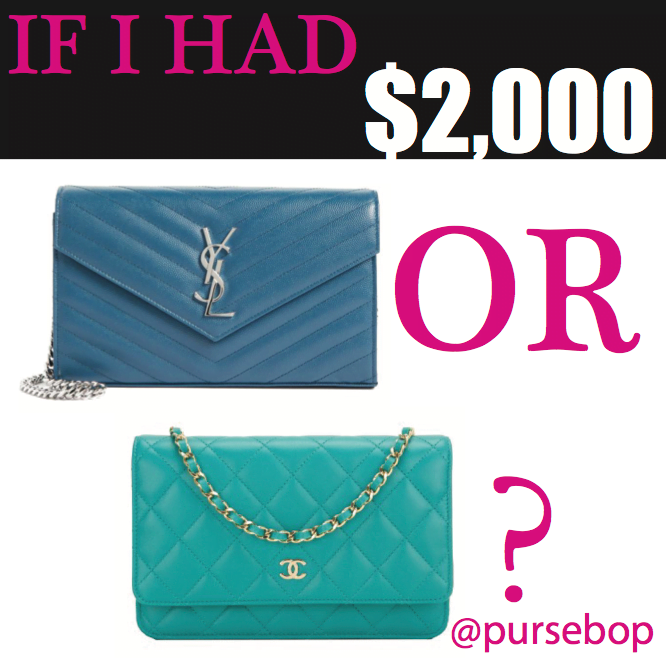 A wallet on chain is another collection must-have. Chanel and Saint Laurent WOCs both have cult followings. In terms of appearance, Saint Laurent wallet on chains usually feature edgy chevron patterns, croc embossing, or bold tassels. Chanel wallet on chains are produced in different materials as well, but the classic quilted version is the one you may be the most familiar with. Which WOC wins this battle?
Read more about these two bags in the articles below:
Price Breakdown
Saint Laurent Wallet on Chain – $1,650 via Nordstrom
Chanel Wallet on Chain – $2,100
$2,000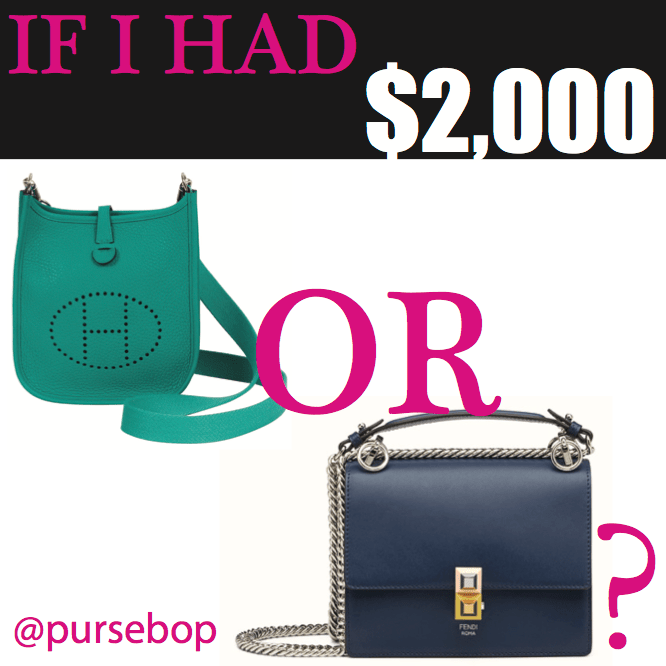 While the Evelyne and Kan I have very different silhouettes, this stylish duo represents a real shopping dilemma a fashionista might encounter. Sometimes, your collection might be craving BOTH a casual everyday bag and a fancier, trendy bag at the same time. The Hermès Evelyne makes a great errand bag you can sling on anytime. The Fendi Kan I is a new Fendi standout that's available in a variety of colors with options for embellishments.  Which path would you choose?
Read more about these two bags in the articles below:
Price Breakdown
Hermès Mini Evelyne – $1,800
Fendi Kan I – $1,850 via Nordstrom
$3,000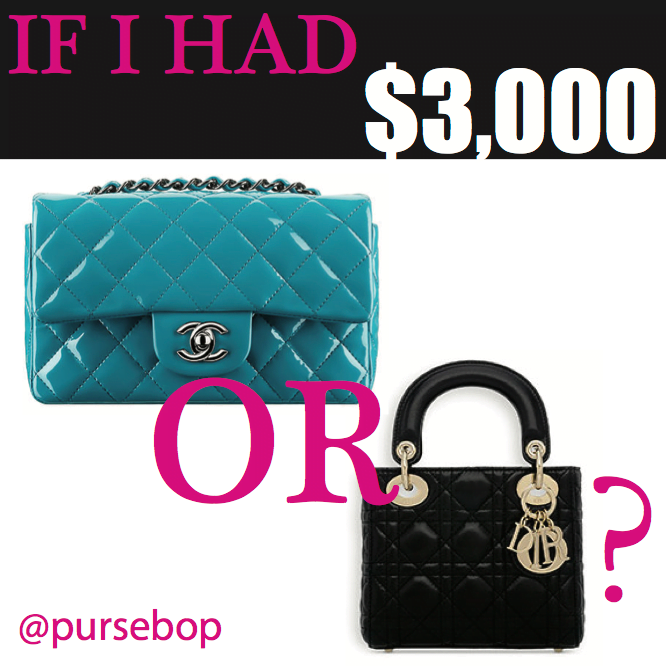 The Chanel Classic Flap and the Lady Dior bag are two of the most iconic bags in the fashion world. Both have feminine grace and charm that is unrivaled, and both look great as mini bags! Which mini would you tote?
Read more about these two bags in the articles below:
Price Breakdown
Chanel Classic Flap Mini – $2,900
Lady Dior Mini – $2,950
$3,500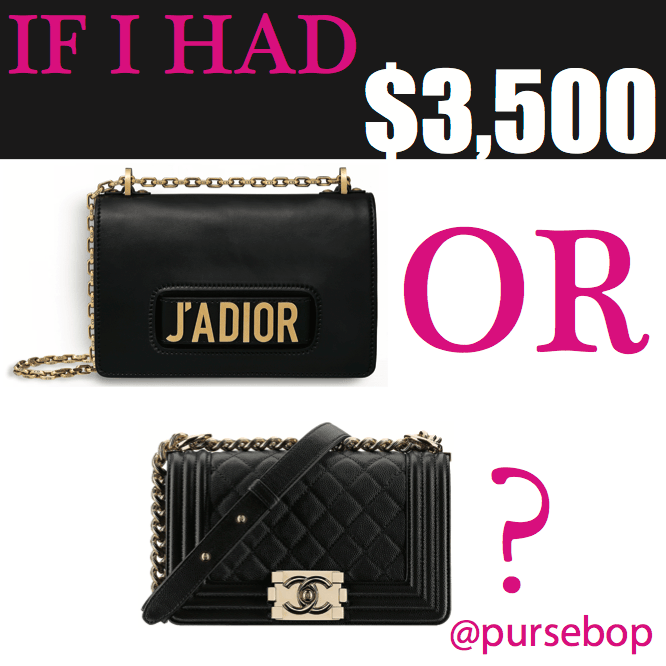 Another Chanel and Dior faceoff, but this time at the opposite end of the spectrum in terms of aesthetic. The Chanel Boy bag and J'adior shoulder bag have a more utilitarian, androgynous look. Each bag adds the same type of edgy flair to an outfit. The Chanel Boy bag is older, but nearly a classic in the Chanel collection. The J'adior collection is fresh and new, and represents the new work of creative director, Maria Grazia Chiuri. In this case, are you going with Chanel or Dior?
Read more about these two bags in the articles below:
Price Breakdown
Dior J'adior shoulder Bag – $3,100
Chanel Boy Bag – $4,300
$4,000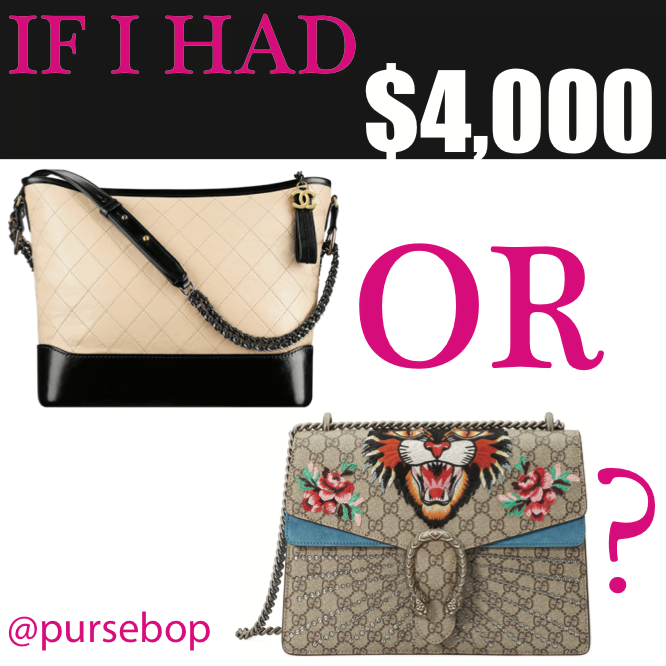 Let's dedicate this round to a pair of "it" bags. The Chanel Gabrielle bag is Chanel's first big bag launch in more than three seasons. The Gucci Dionysus bag is one of Alessandro Michele's first gifts to Gucci as the creative director that has changed Gucci's whole image. Both bags are monumental and unique in their own right due to their interesting silhouettes. Does Chanel or Gucci win in this round?
Read more about these two bags in the articles below:
Price Breakdown
Chanel Gabrielle Bag – $4,000
Gucci Dionysus – $3,800 via Neiman Marcus
$9,000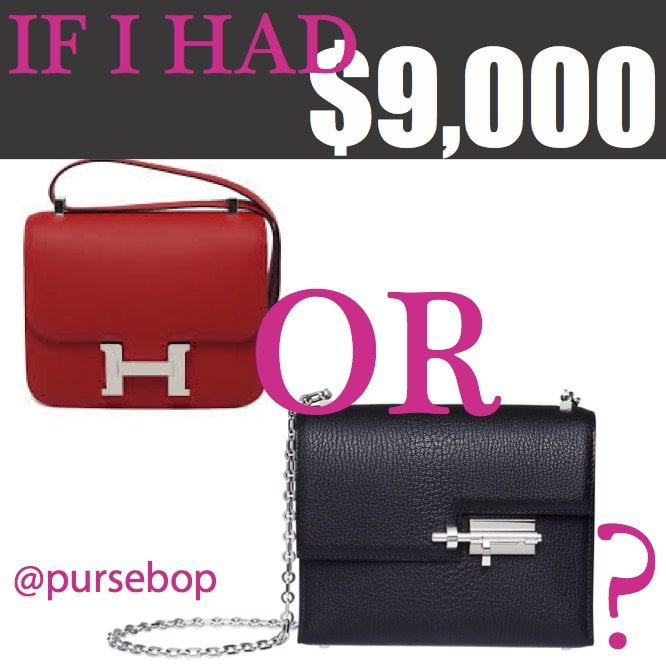 The Constance and Verrou are both sleek, flap bags from Hermès. Both bags are highly coveted at the moment. The Constance displays the emblematic, classic 'H' and remains one of Hermès' most difficult to secure bags. The Verrou features a minimalist, chic lock and is one of Hermès' newest styles that many fashionistas haven't had the opportunity to tote yet. Which H bag wins this battle?
Read more about these two bags in the articles below:
Price Breakdown
Hermès Constance – $9,650
Hermès Verrou – $9,050
$10,000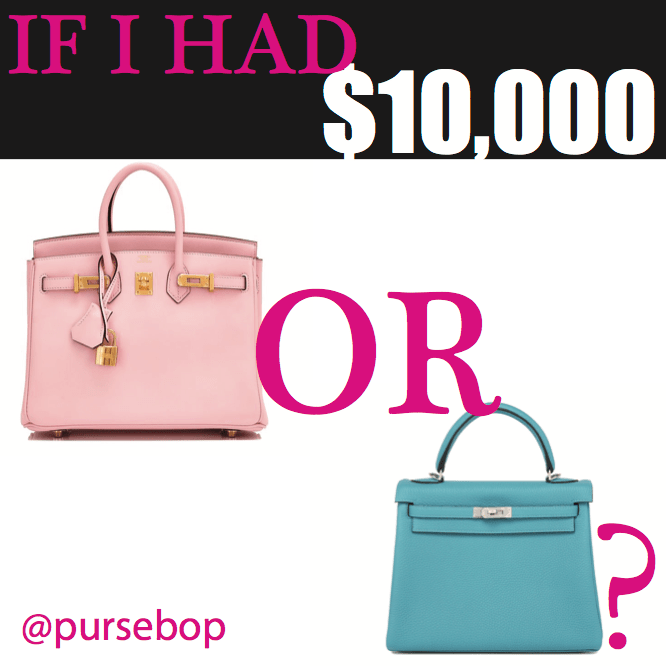 You probably saw this question coming too, but what is a "this or that" challenge without a Birkin versus Kelly question?! The Birkin and Kelly are Hermès' most exclusive bags and boast long waiting lists. They are both usually considered ultimate holy grail bags for handbag aficionados. I know you're probably too conflicted to answer, but would you go with the Birkin or the Kelly?
Read more about these two bags in the articles below:
Price Breakdown
Hermès Birkin 30 – $10,900
Hermès Kelly 28  – $9,900